Australian Construction Achievement Award 2020 & 2021 Presentation Event
We congratulate the 2020 and 2021 Australian Construction Achievement Award winners
Museum for Western Australia
Perth, Western Australia by Multiplex Constructions Pty Ltd
Zero Cost Energy Future
South Australia by Enerven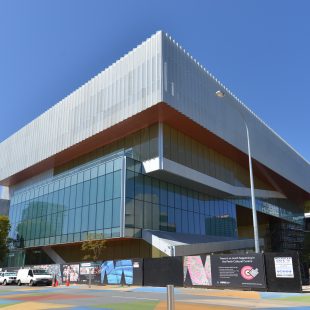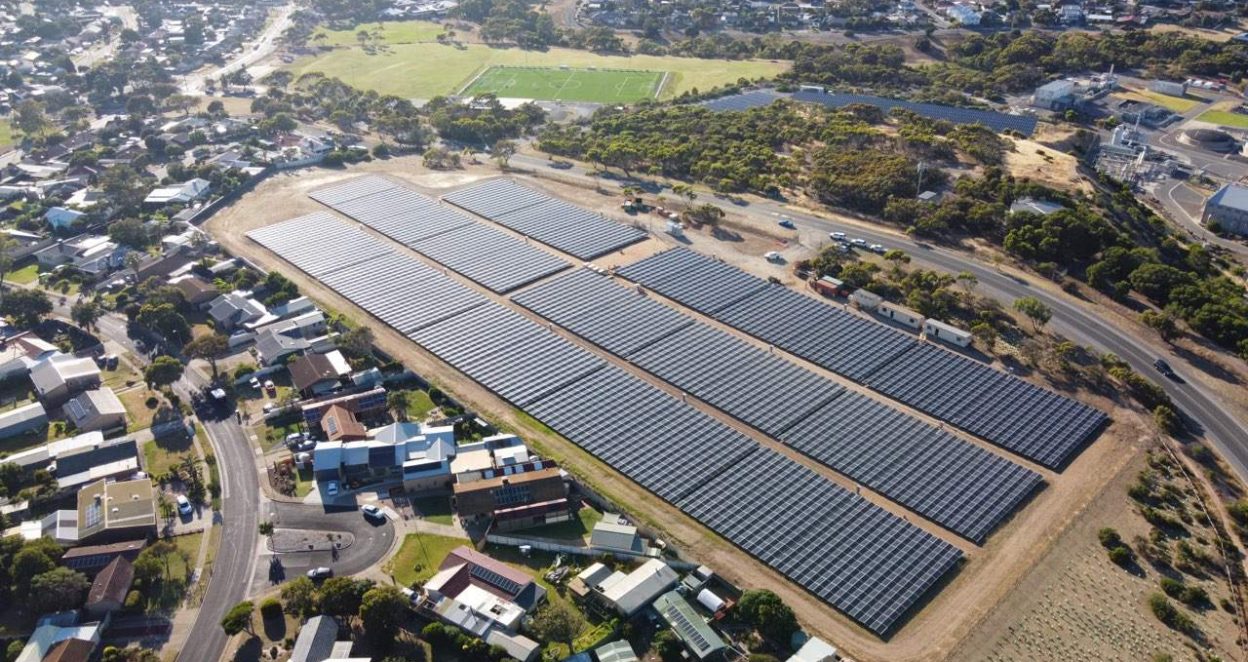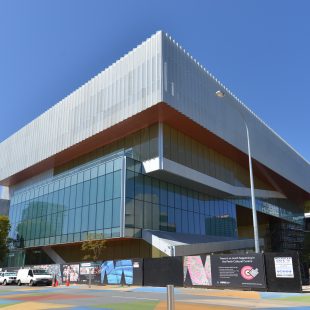 New Museum for WA
Perth, Western Australia

With seven new galleries, a 1,000 square metre special exhibitions gallery, and dynamic and activated public spaces, the New Museum for WA is set to become a landmark building for the state of Western Australia. A redevelopment of the existing WA Museum, the project included the design and construction of a new building that integrates with the existing heritage buildings, heritage restoration works to the Old Gaol, Jubilee, Beaufort and Hackett Hall buildings, a Central Energy Plant (CEP) servicing the Perth Cultural Centre, expected to reduce energy use and CO2 emissions by around 30% in the year after the New Museum is operational.
Australian Construction Achievement Award (ACAA) 2020 | New Museum WA from Engineers Australia on Vimeo.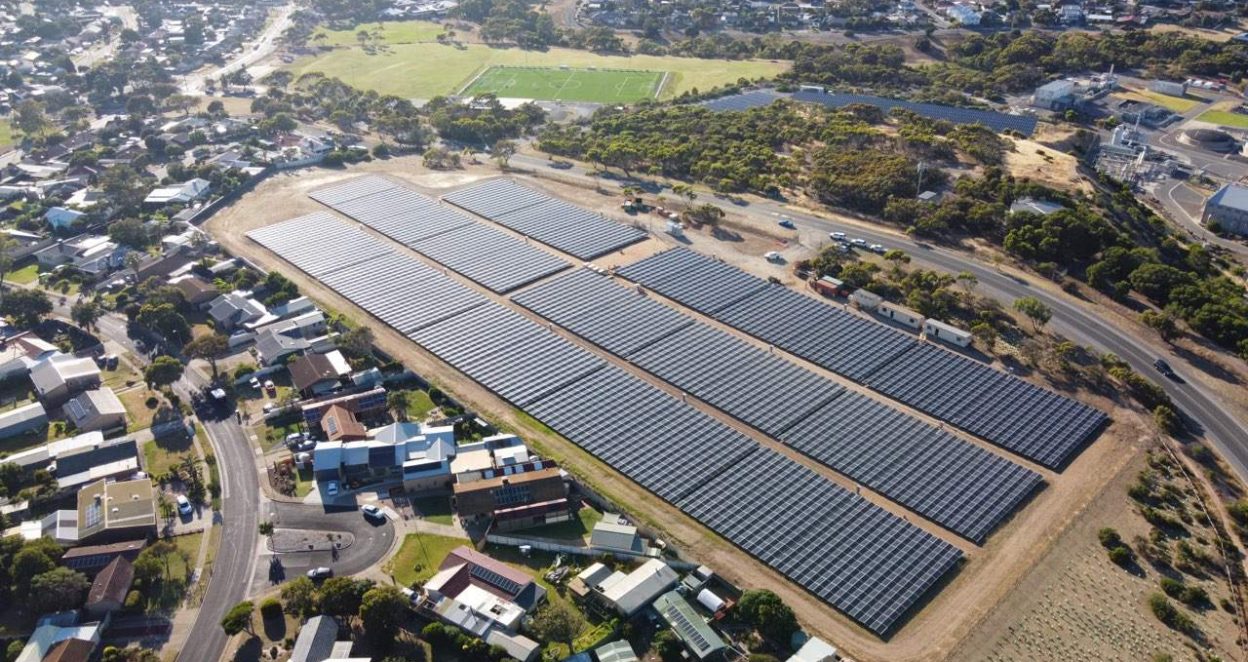 Zero Cost Energy Future
South Australia

With the ultimate goal of unlocking SA Water's potential to neutralise energy costs, Enerven was contracted to deliver a world-first program that included the engineering, procurement, construction and commissioning of 242GWh (gigawatt hours) of solar PV and 34MWh (megawatt hours) of energy storage across 33 sites in metropolitan and regional South Australia.
This involves the associated connection to transmission and distribution networks.
Winning the Australian Construction Achievement Award in both 2017 and 2019 has been fantastic for McConnell Dowell.
It has instilled enormous pride in our employees and has provided many wonderful opportunities to celebrate as a team.
It has also proven to be a terrific marketing opportunity and we have delivered a number of presentations to customers and industry groups, showcasing our innovation.
Finally, we have used it a springboard to win some international awards, taking our brand beyond our traditional operating regions.
Our message to anyone considering entering the Award is, go ahead!
The Australian Construction Achievement Award – ACAA – is Australia's most prestigious construction accolade and winning it will benefit your business in many ways.
Jim Frith – Managing Director for McConnell Dowell Australia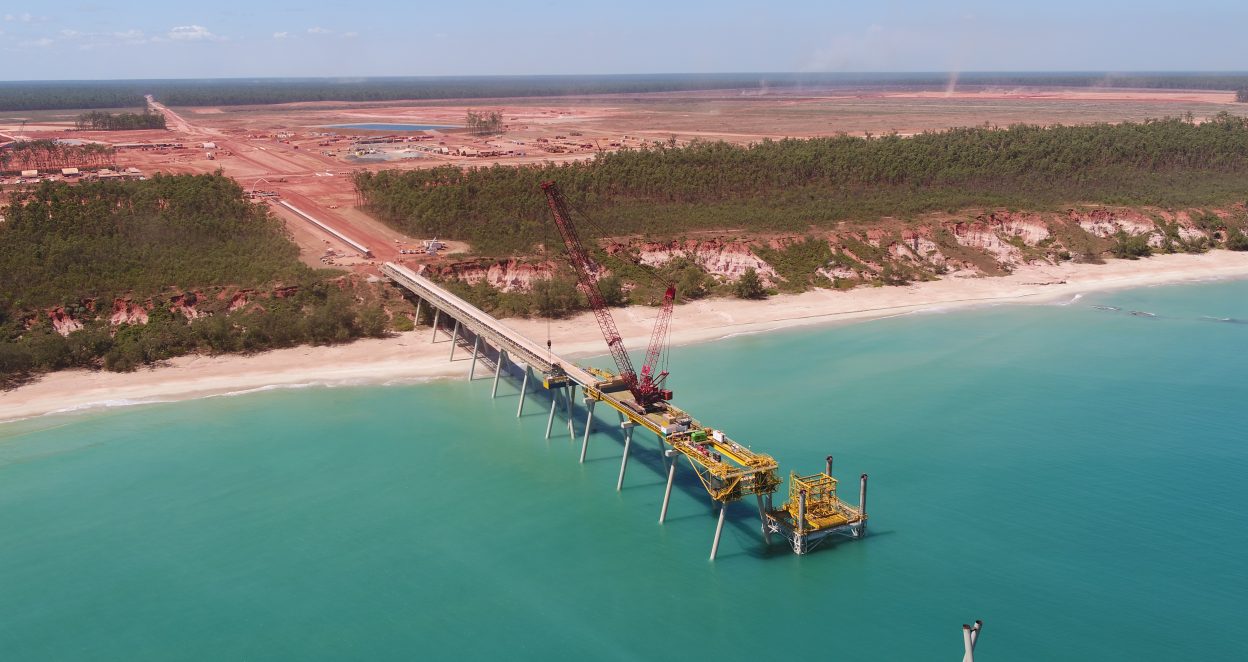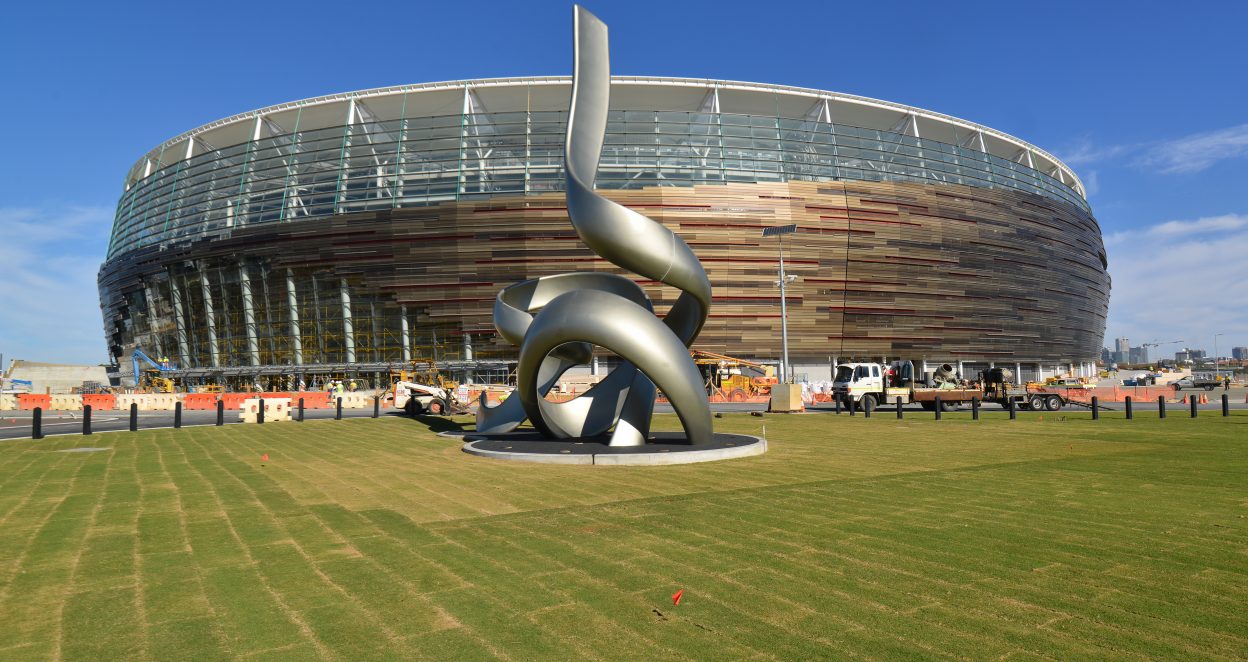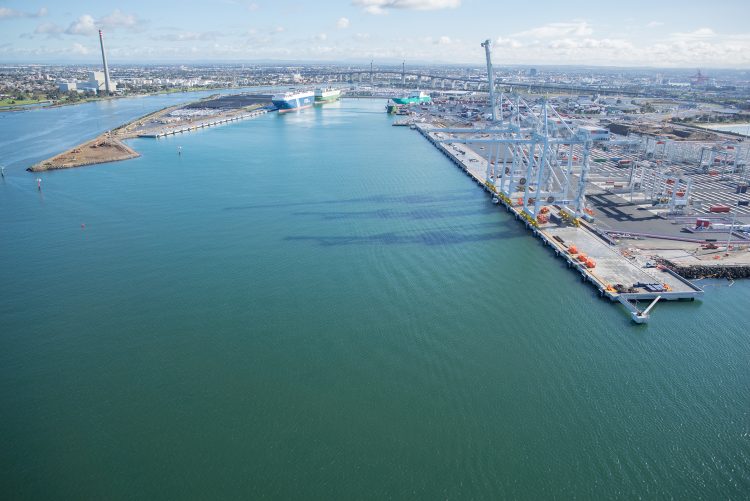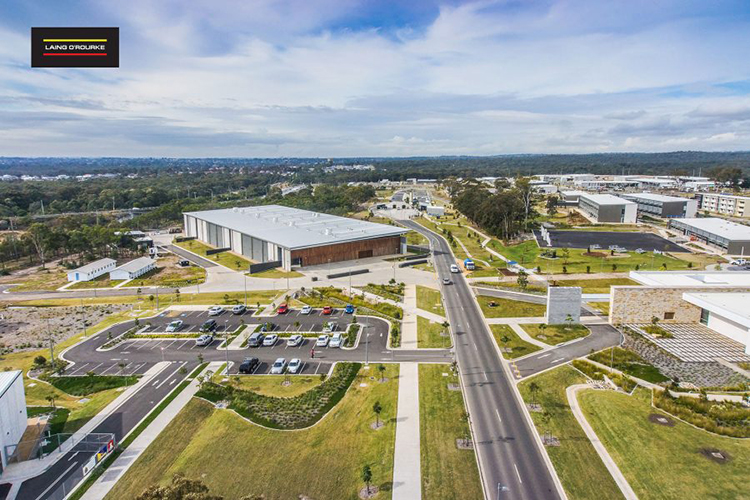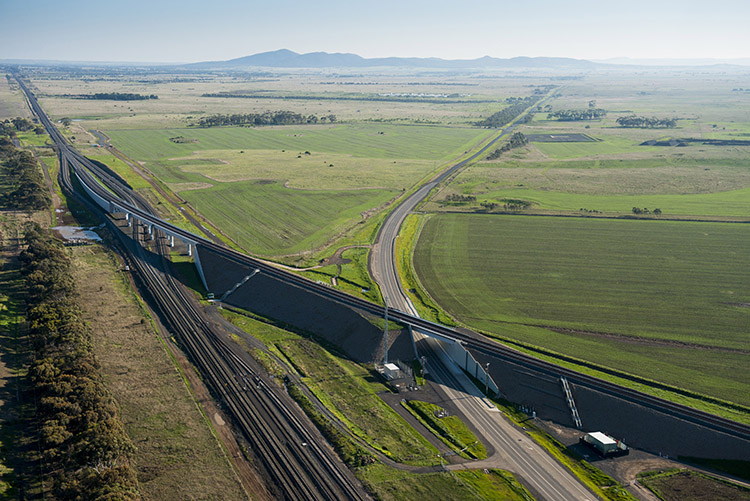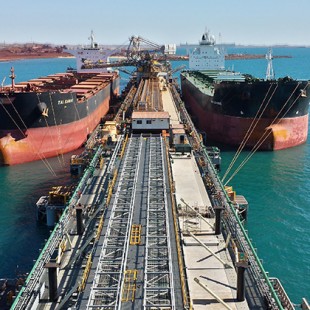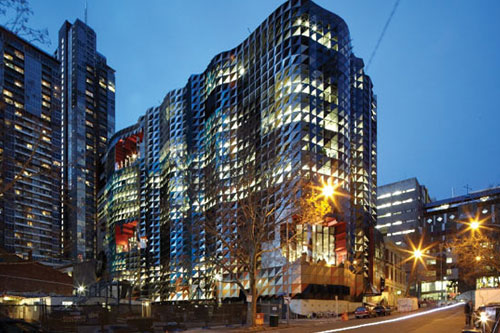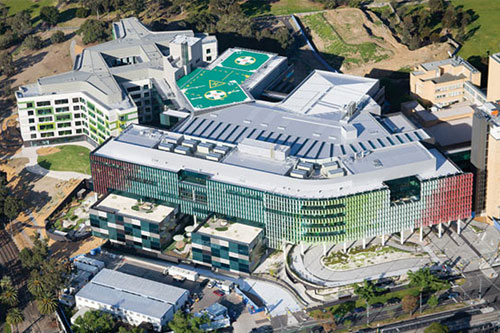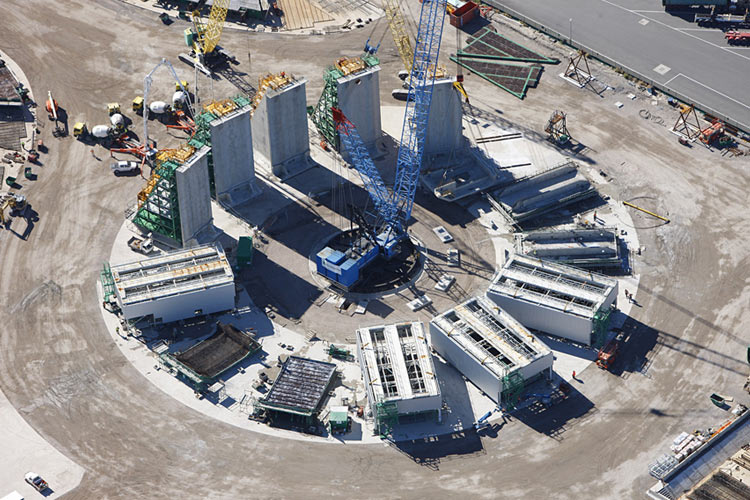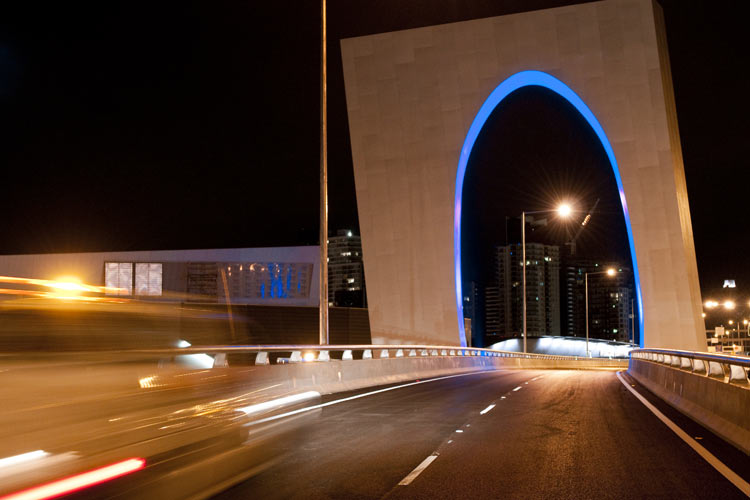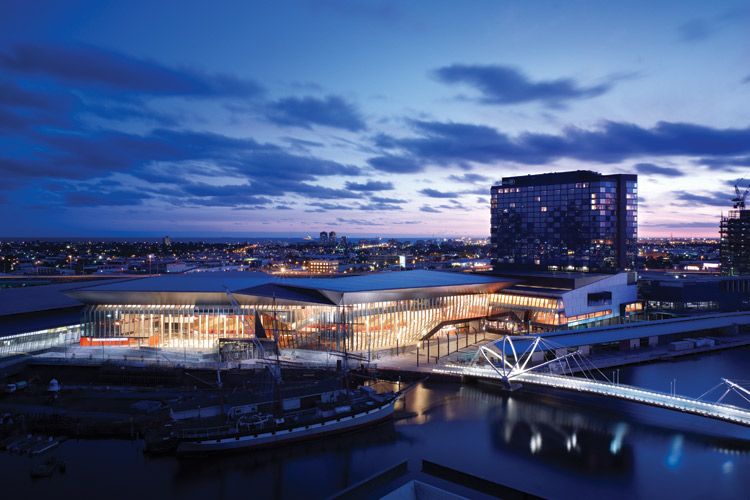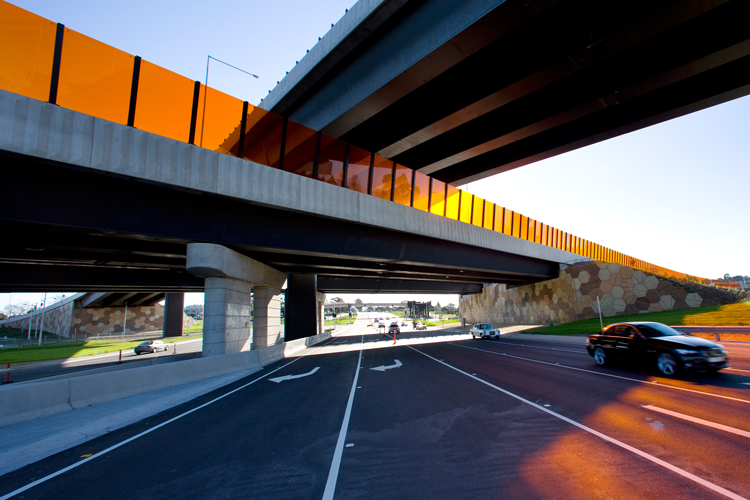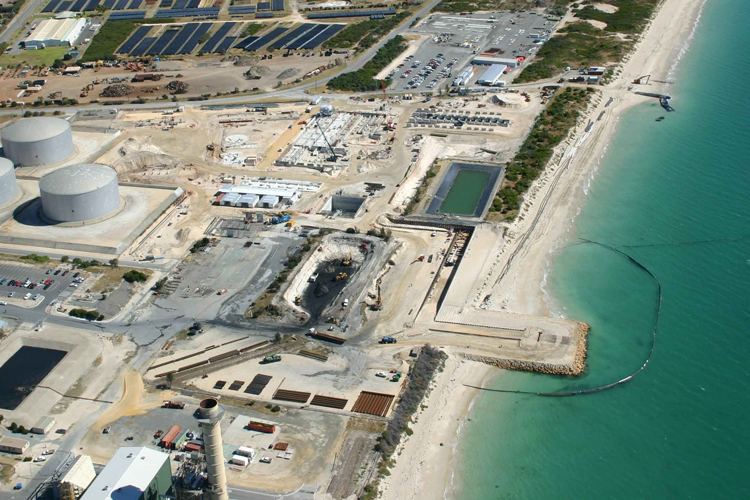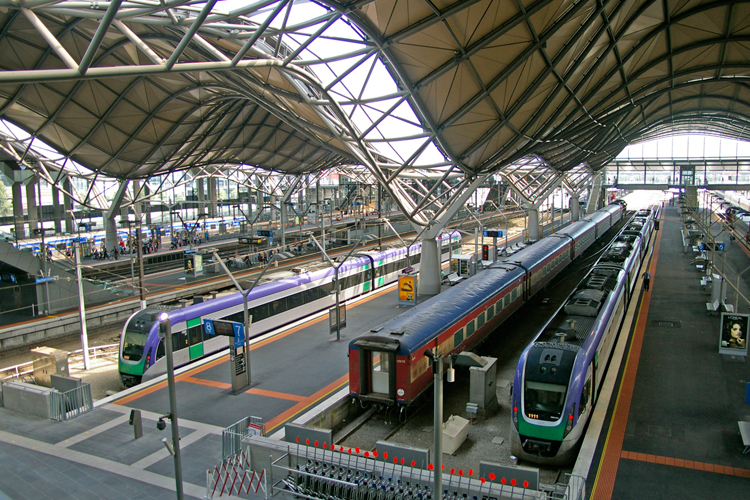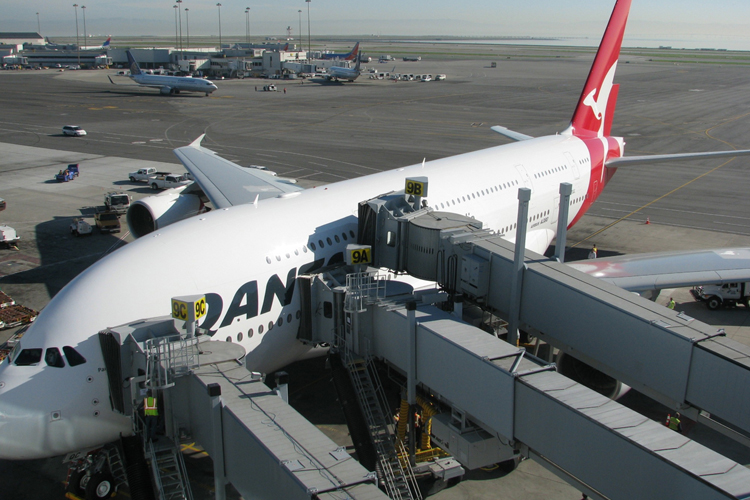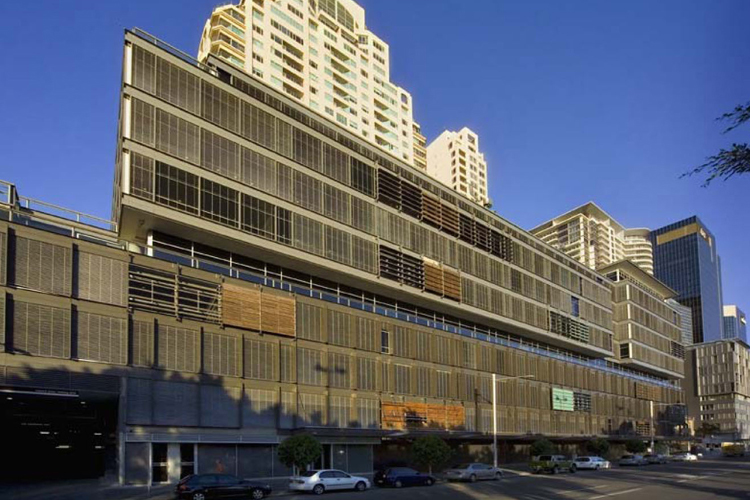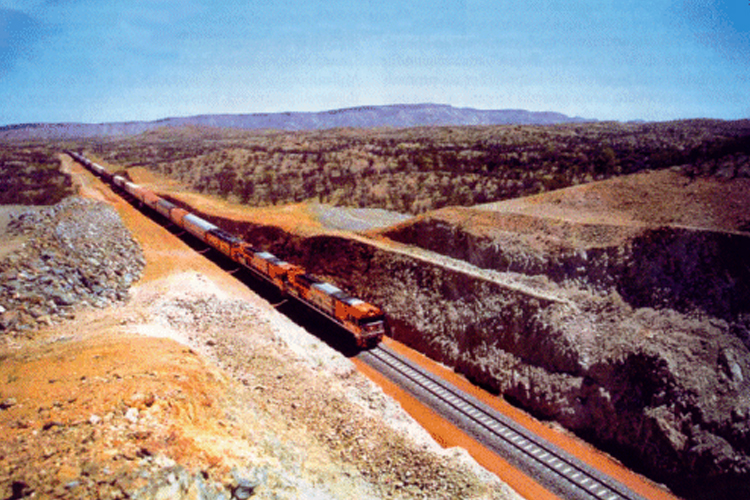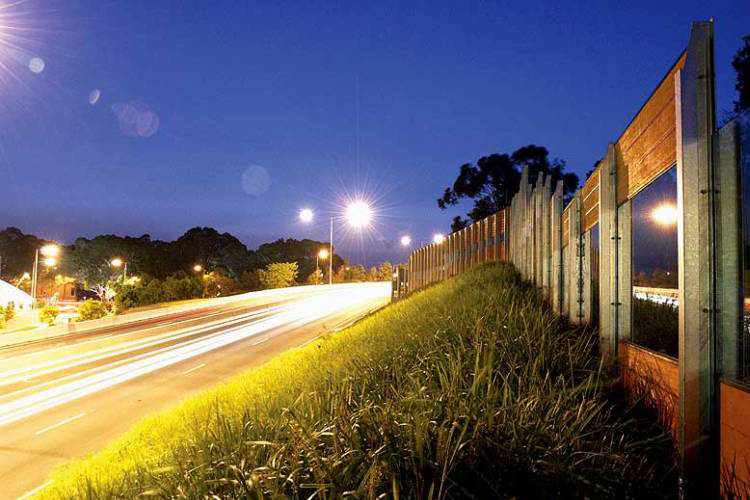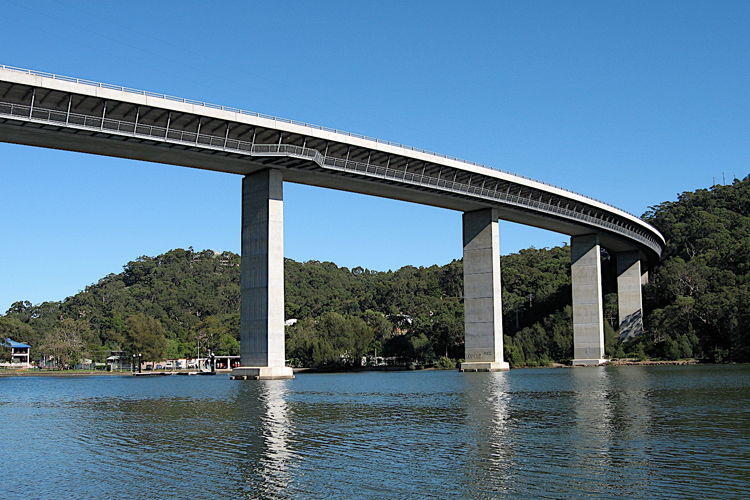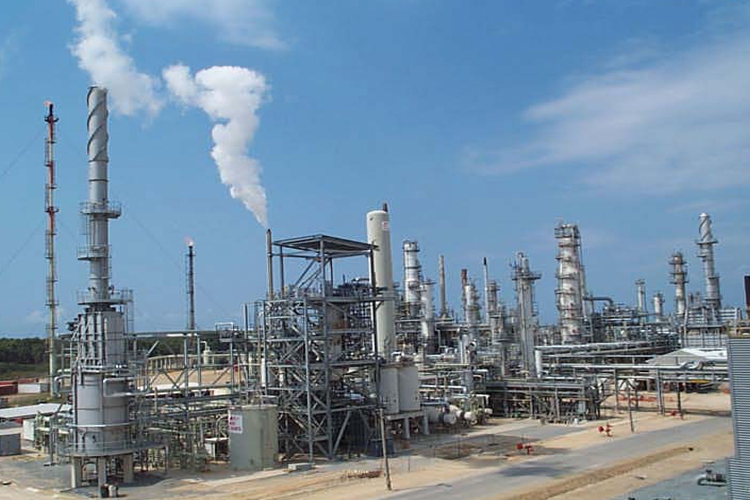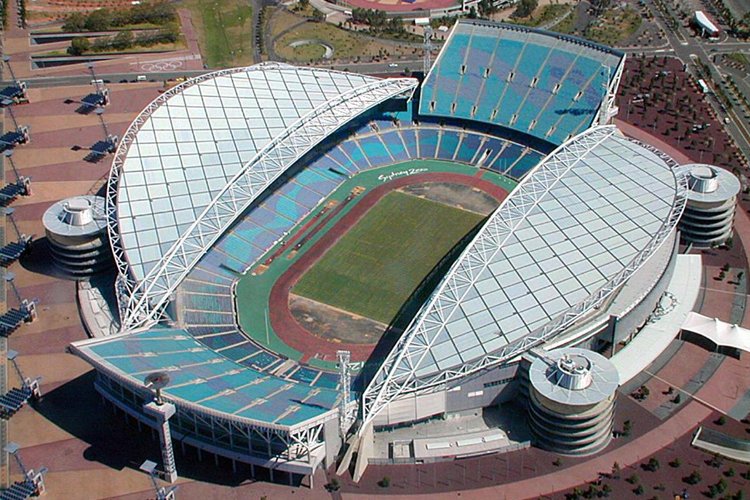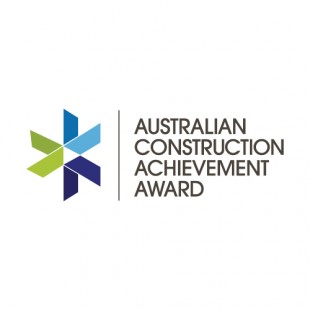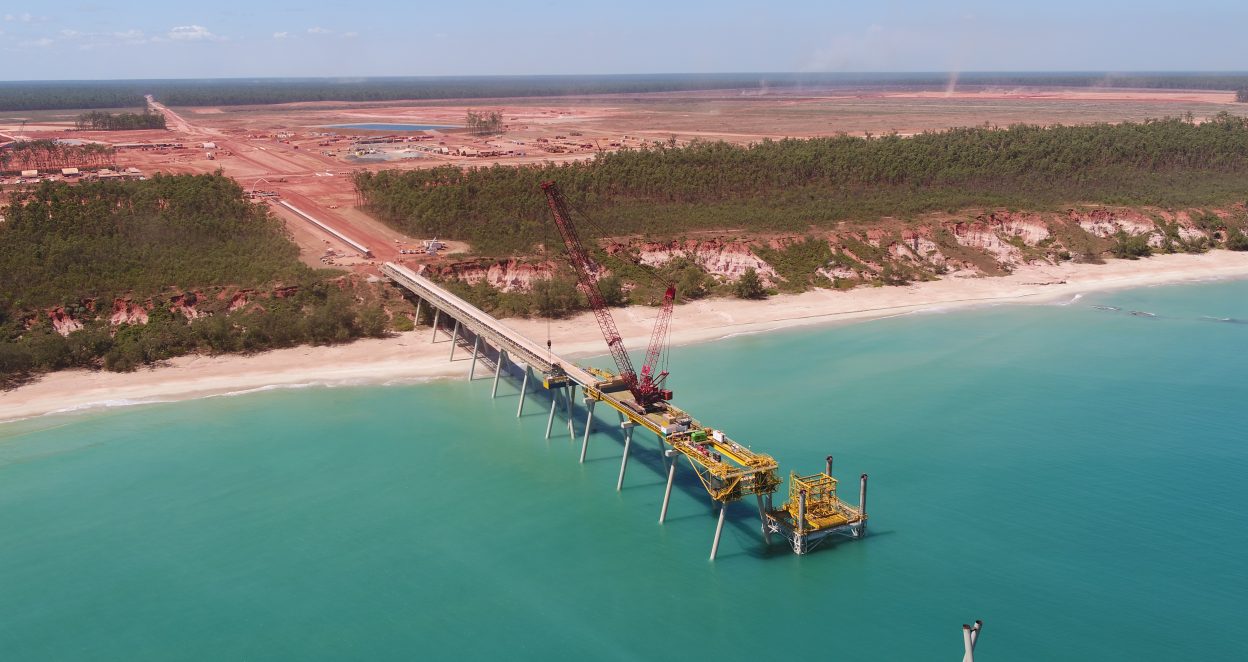 2019
Chith Export Facility (McConnell Dowell Constructors (Aust) Pty Ltd)
Rio Tinto's Chith Export Facility is a large, complex and remotely located construction project that has revolutionised the design and construction for safe, smart and efficient large scale marine construction.
The facility comprises a 650m access jetty, a 350m loading wharf and an onshore conveyor system that will service Rio Tinto's Amrun bauxite mine, south of Weipa in remote Far North Queensland.
Innovatively designed by Jacobs (in collaboration with the constructor), constructed in 10 months by McConnell Dowell and with constructability input and oversight from Bechtel; Rio Tinto fostered a best-for-project philosophy across every aspect of the development.
Modularisation was at the heart of the solution, and the project team took it to new levels in scale and breadth, saving 300,000 job-hours and reducing overall build time by 12 months.
The 350m wharf structure was split into seven, first-of-a-kind 'jacket' modules (the substructure) and six topside modules.
Weighing approximately 680 tonnes each and standing 30m high, the jacket modules with integrated dolphins (Jacketed Wharf with integral Dolphins (JWD)) reduced the number of permanent wharf piles required from 100 to just 28, minimising environmental impact to marine life – a core focus for the Chith Export Facility team.
The wharf topside modules, placed on the jackets, ranged from 600 to 1400 tonnes and were fabricated complete with all services, conveyors, concrete roadways and access walkways.
In true 'plug and play' fashion, the JWD modules were delivered and installed by a heavy-lift ship in a safe, clean and efficient operation.
The 650m access jetty was constructed using McConnell Dowell's cantilever traveller frame. Developed for efficiency, repeatability and safety, this method minimised high-risk marine-based construction and saw each complete bent delivered in just three days.
ACAA 2019 Winner – McConnell Dowell | Chith Export Facility from Engineers Australia on Vimeo.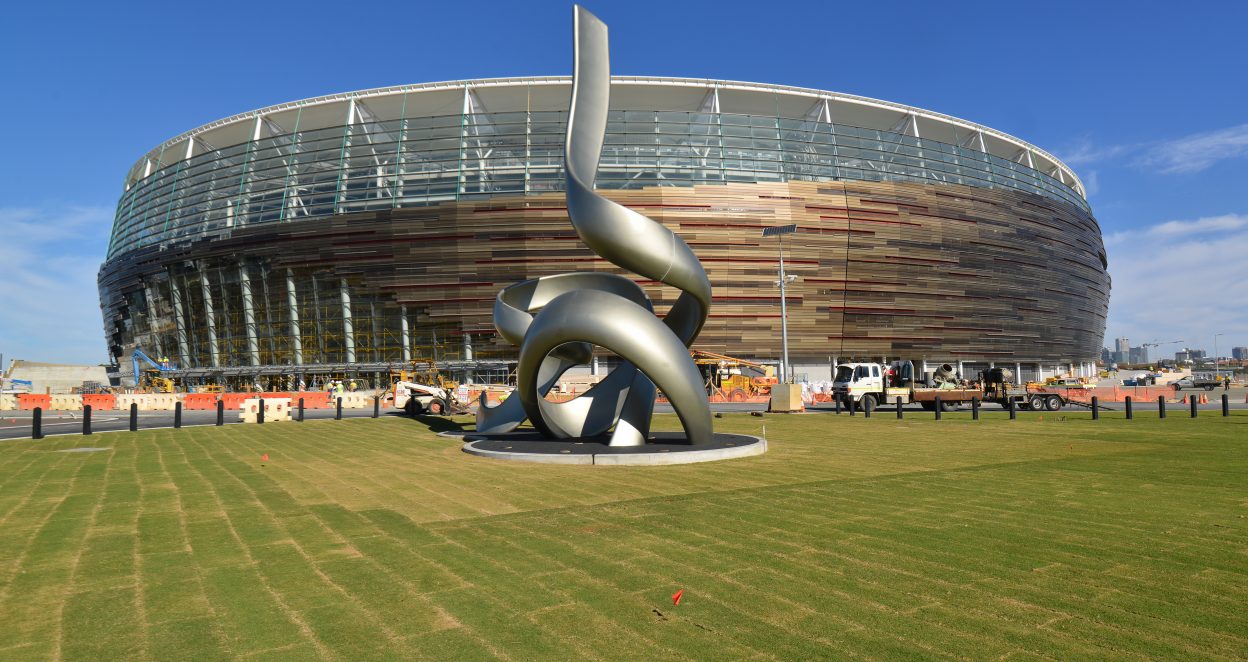 2018
Optus Stadium and Stadium Park (Multiplex Constructions Pty Limited)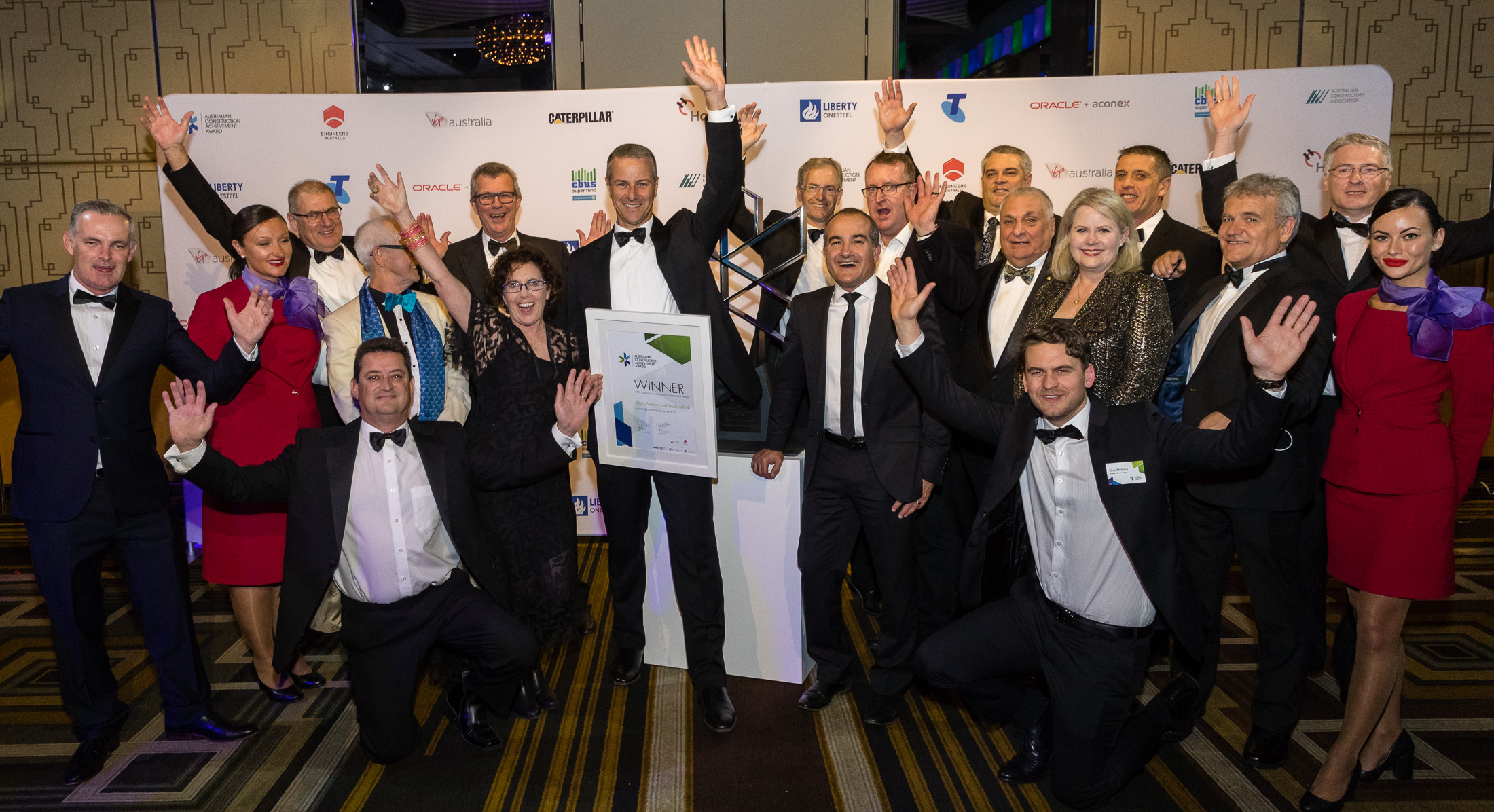 In the construction of Optus Stadium and the surrounding Stadium Park, Multiplex has delivered a truly world-class venue for Western Australia.
Located on the Burswood Peninsula, the 60,000 seat multi-purpose Stadium can host a variety of sports and entertainment events including Australian Football League, cricket, soccer, rugby and concerts.
The surrounding Stadium Park provides year-round access for visitors of all ages, with facilities including nature playgrounds in the Chevron Parkland, the BHP Boardwalk and Amphitheatre, picnic and barbeque areas, public art, recreational facilities and bars and restaurants.
Multiplex was responsible for the design and construction of the Stadium and Stadium Park as part of the Westadium Consortium, appointed by the Western Australian State Government in 2014 using a Design-Build-Finance-Maintain (DBFM) procurement model to deliver the project.
The consortium comprises John Laing (the equity investor and asset manager), Multiplex (the lead design and construction contractor), BGIS (the facilities manager leading the maintenance and services delivery), and Brookfield Financial (the financial adviser).
With a 'fans first' philosophy guiding the Stadium design, Multiplex managed and coordinated the design consultant team to interpret the project brief and develop a compliant and coordinated design solution with buildability input.
The result is an innovative design which delivers an unrivalled stadium experience for Western Australia.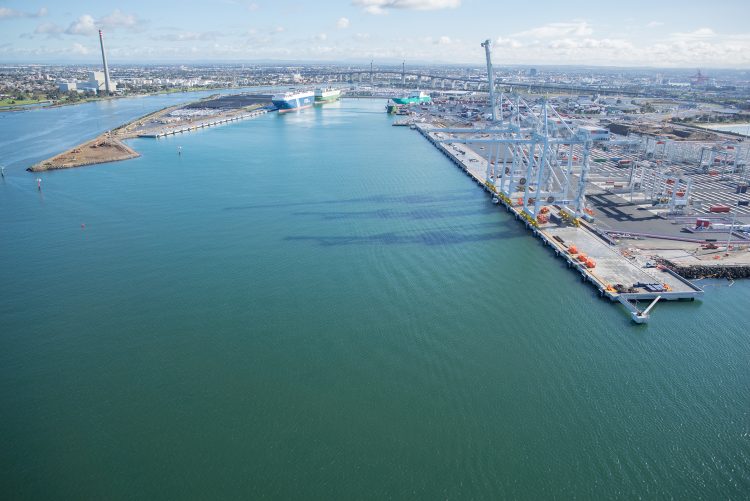 2017
Melbourne Port Capacity Project – Maritime Works (McConnell Dowell)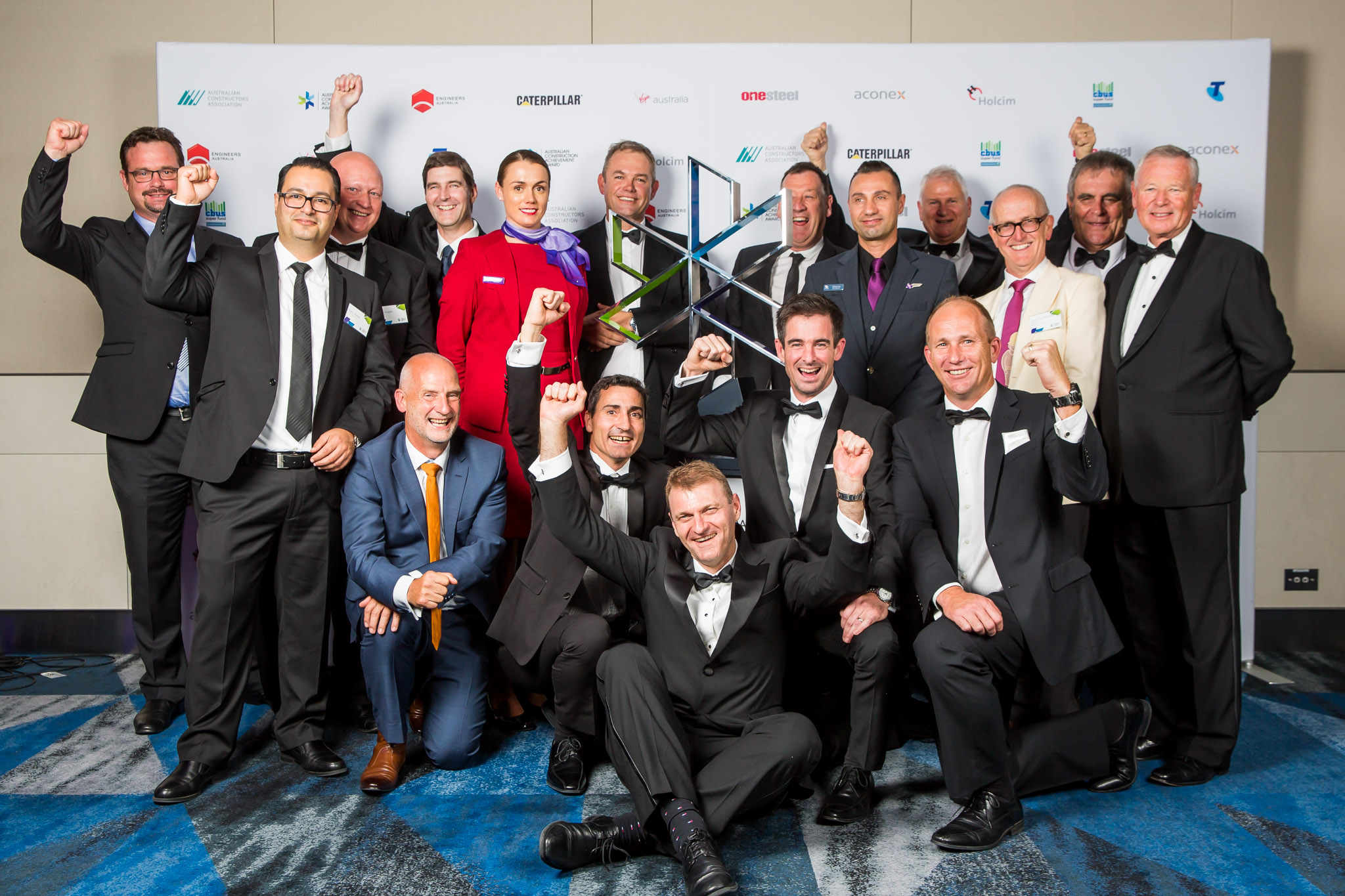 At the mouth of Melbourne's Yarra River, it's the Port of Melbourne, home of Australia's busiest container terminal. The Port of Melbourne (PoM) undertook the Port Capacity Project (PCP) to cope with strong growth. PoM forecast that container trade would double in the next 10-12 years. They recognised the Automotive Terminal would need to process over one million vehicles a year. To provide certainty of capacity, PoM undertook a huge infrastructure upgrade, commissioning six major packages of works totalling $1.6B.
Central to the PCP was the $390M Maritime Works Package, a full-scale redevelopment of Webb Dock. Webb Dock East (WDE) was slated to become the home of the Port's third container terminal and it needed a major refurbishment. Webb Dock West (WDW) had to be demolished and turned into a high-throughput Automotive Terminal. To accommodate larger ships with deeper draughts inside Webb Dock meant dredging out almost two million cubic met res of spoil and relocating it. Enter McConnell Dowell.
Large-Scale Complexity
We were tasked with delivering the Maritime Works Package, which included dredging and l.5km of new and refurbished docks. Tricky enough to do it in the middle of a working Port with difficult geo-technical conditions posed by deep soft silt, a salt marsh and methane pockets. Yet our task was made even more complex by having four other major concurrent construction projects at the Port clogging up access and the interface. Yet that wasn't the most serious challenge. PoM insisted we delivered the Maritime Works Package while Webb Dock remained in operation, without interruption to shipping. It was a tall order. packed with risk and difficulty, and it all had to be delivered on a fixed price contract.
High Risk, High Value
Given the very high economic value of the Port's freight movements. maintaining uninterrupted shipping operations throughout the project was of paramount importance to PoM. Sequencing, interface and access all created major challenges. as did the difficult geo-technical environment. Works had to be performed under strict environmental controls in a live, high-risk, very high-value environment under rigorous security controls. We had to manage 22 direct stakeholders inside the Port, along with a further 18 external stakeholder groups. The variety and complexity of the technical challenges was something else again.
Marine deconstruction, particularly the removal of very large, very heavy pries was problematic.
1.86 million cubic metres. an enormous amount of spoil, had to be dredged from inside a live working dock. That dredged material had to be safely disposed at the Port's Dredged Material Ground (DMG) in Port Philip Bay, including using suitable dredge material to enlarge the DMG's bunds. McConnell Dowell also made numerous strategic and innovative decisions to extend the new dock's life during Design Development. That required offshore sourcing of 42m tubular steel piles and meant managing complex quality and logistics issues.
McConnell Dowell made the decision to complete as much of the works as possible from the land. That drove our structural form decisions, resulting in a novel temporary works approach to demolish. rebuild and extend the wharves on a recoverable scoria platform over the deep silt.
Delivery Excellence
Our design decisions paid off McConnell Dowell delivered the project on time and budget. We were able to leverage the quality of our team and a high-performance culture to develop a raft of effective and innovative solutions. Along the way we achieved a score of 'Excellent', the highest possible grading (above 'Best Practice') on over 98% of our project KRAs. And we did it without a single long term injury. You might well ask how.
This paper outlines some of the technical challenges encountered and the innovations we implemented during the project, highlighting why Webb Dock is considered to have been so successfully delivered.
Trophy Love for ACA Launch 2018 v2 on Vimeo.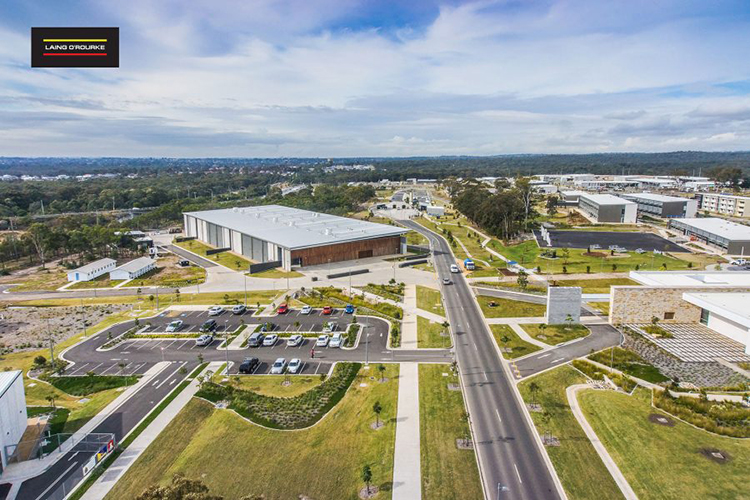 2016
Moorebank Units Relocation Project (Laing O'Rourke Australia Construction Pty Ltd)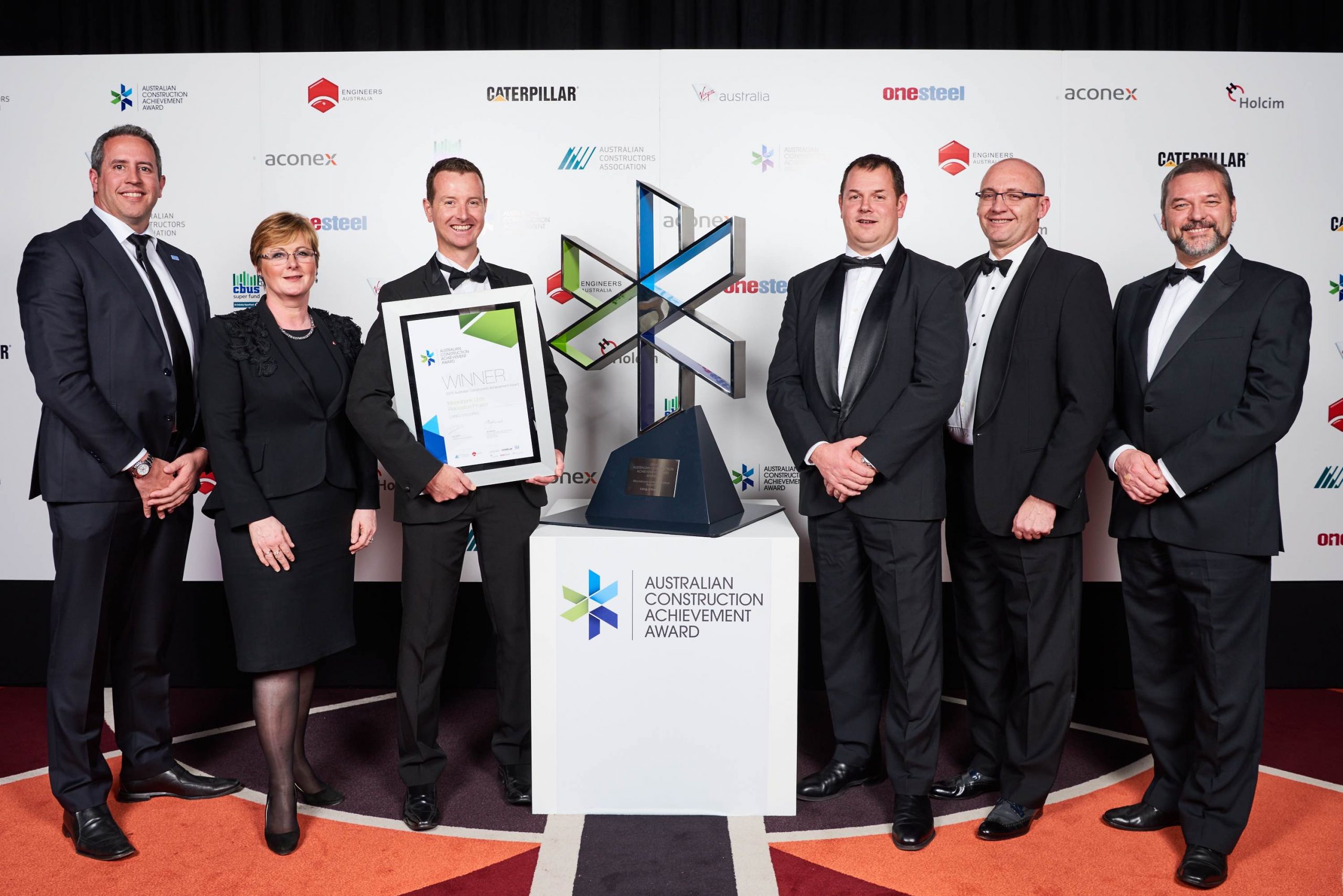 In 2012, the Department of Defence engaged Laing O'Rourke Australia Construction Pty Ltd as the managing contractor for their $834 million Moorebank Units Relocation – the relocation and redevelopment of Defence facilities and assets from a 190ha site at Moorebank in Sydney to a 110ha site at Holsworthy in Sydney's South West.
As the largest single site Australian Defence capital works project since WW2, this project delivered 80 new buildings, including a much needed modern training facility for Defence while at the same time unlocking key industrial land for Sydney's new Intermodal Rail Freight Terminal Project with an economic value estimated at $10 billion.
Laing O'Rourke worked closely with Defence throughout the parliamentary approval phase to demonstrate value for money and securing the necessary public funding.
Given the requirements of the client – also the end user – absolute assurance of programme was paramount – any delays could potentially impede military capability and the redevelopment of the site for the Rail Freight Project.
More than 9,000 people worked on- site, throughout the project. To place the project in perspective, the size of the site is larger than the whole of the Sydney CBD. The on-site workforce reached a peak of 1,200 per day, all while more than 3,000 military personnel continued to use the base during the construction phase.
Applying 3D and 4D digital engineering throughout the design and delivery phases Laing O'Rourke established new benchmarks in terms of collaborative, innovative delivery. This enabled a maximisation of time and cost savings, including a substantial reduction in workforce requirements.
The high profile relocation and redevelopment project included substantial military training and teaching facilities, accommodation, workshops and Q Stores, explosive ordnance detection dogs facilities, a new base entry and guardhouse, the area mess, sporting facilities as well as the Army's Museum of Military Engineering, and was completed ahead of a number of target milestones.
Today, more than 2,000 military personnel have now transitioned successfully to new premises.
This project set new benchmarks in terms of collaborative, innovative delivery and value for the taxpayer's dollar.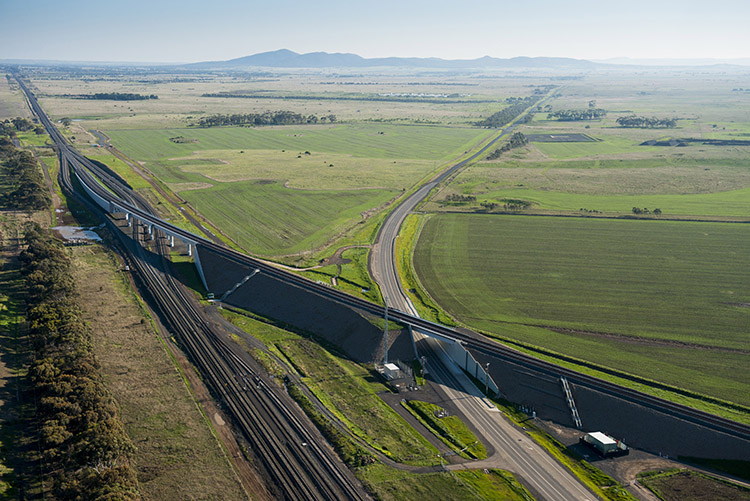 2015
Regional Rail Link (Regional Rail Link)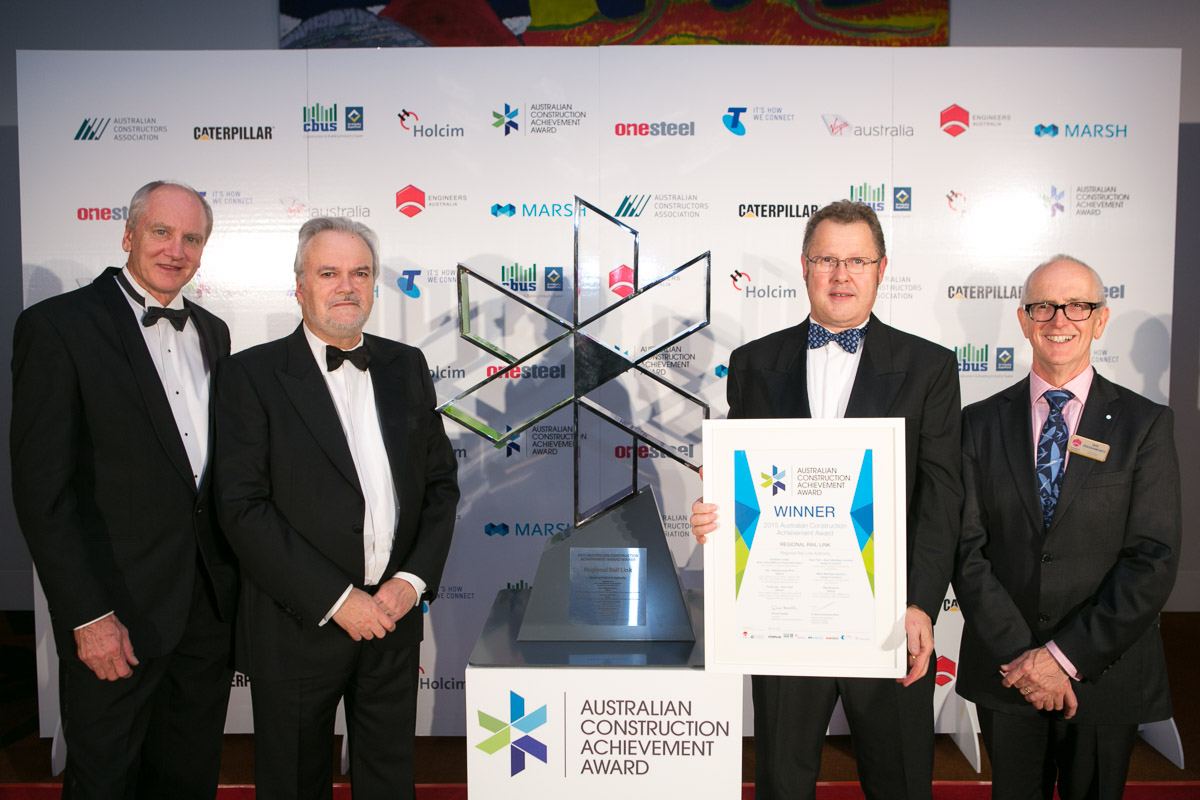 "One of Australia's largest public transport projects, this $3.9 billion budgeted landmark transport project has taken partnership to a new level with a procurement and collaboration model that has redefined success for major infrastructure projects. Originally planned for completion in June 2015 the partnership-style approach allowed the infrastructure to be delivered eight months early, and $900 million under budget.
Regional Rail Link was delivered through six work packages, consisting of three alliances, two design and construct contracts, one Metro Trains Melbourne Franchisee which includes: John Holland, Coleman Rail, Alstom, Lend Lease, AECOM, GHD, Metro Trains Melbourne, Regional Rail Link Authority, Thiess, Balfour Beatty, Parsons Brinckerhoff, Jacobs, Leighton Contractors-Downer EDI Joint Venture, Lend Lease- Leighton Contractors Joint Venture, UGL, V/Line and RPS and employed more than 6,000 people.
The project involved construction of a new rail line for West Werribee in Melbourne's outer west to Deer Park and then to Southern Cross Station in the city's CBD. With 90km of new track, two new railway stations, three station upgrade, 40 bridges and grade separations, the most complex signalling works ever undertaken in Victoria and upgrades to local roads, paths and community infrastructure along the 45km project corridor the Regional Rail Link was a highly complex project on one of the most heavily trafficked rail corridors in Australia. This project removed major bottlenecks in Melbourne's rail network, expanded the regional network and created significant extra capacity for metropolitan and regional services."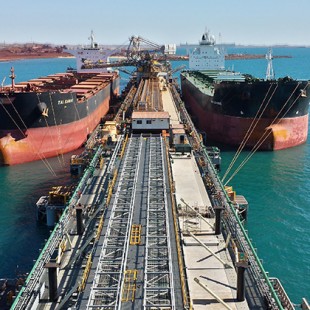 2014
Cape Lambert Marine Works Phase A (John Holland)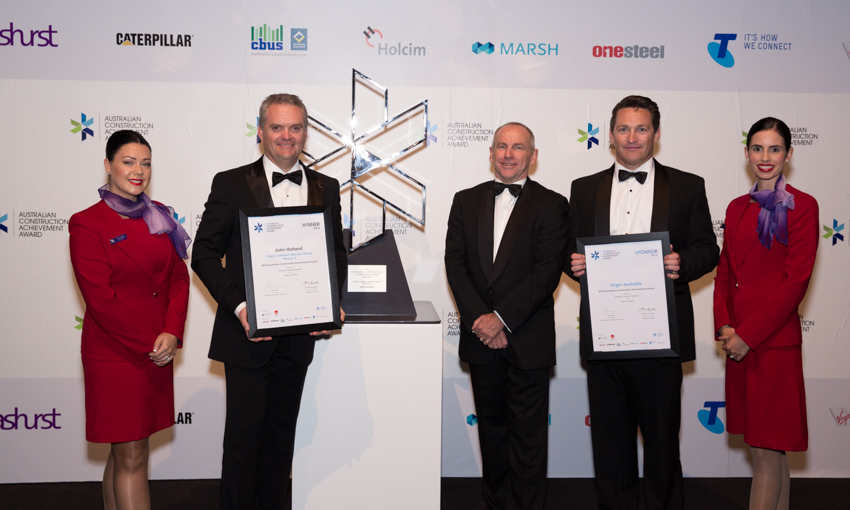 The Cape Lambert Marine Works project was a $400 million contract for John Holland, based 40 kilometers north of Karratha, in the Pilbara region of Western Australia. This 'construct only' project involved building a new port facility next to the existing port, which was operating at peak capacity. The project required construction of a new 920m-long access jetty; a ship-loading wharf that spans 750meters; and 18 dolphins for berthing vessels. This new facility was purpose-built, in order to significantly increase the ore-loading capacity for Rio Tinto's operations in the Pilbara region.
The contract called for a 10 per cent use of Indigenous persons onsite, and this target was successfully met. One such team member, was the Cape Lambert Trainee Administrator ,Yvonne Johnson who began as a skill-based trainee, before she was offered a full time role.  Despite being among a workforce where, due to the remoteness of the region worker turnover is up to 30 to 40 per cent, Yvonne says she – like many others onsite – made some lifelong friendships from her time on the Camp Lambert project.
Cape Lambert is situated precariously in Australia's most active cyclone zone (seeing three to four cyclones per year). This, in itself, presented a highly unique management challenge for John Holland, as it takes up to ten days to demobilise and remobilise for a cyclone event. Fortunately, throughout the entire project no damage to equipment or personnel was sustained as a result of any cyclonic activity.
Combining extensive expertise with innovative thinking, John Holland overcame many other obstacles as well. Some of these included:
Working in a remote location.
Managing the 'fly in, fly out' rosters of a 400-person workforce.
Seasonal conditions that saw temperatures consistently between 40 and 50°C.
Maintaining a safe-work environment, where construction was occurring at heights over the ocean.
Working in a 'live' port that remained fully functional, and was subject to frequent shipping movements.
Ensuring protection and preservation of the sea life in the marine reserve where the project took place.
Extreme care was taken to avoid damage to Indigenous heritage sites in the area. In addition, the unique and sensitive marine environment required John Holland to develop and implement some highly creative engineering solutions, as it was of utmost priority for the project to preserve and protect the wildlife within the region. This included whales, dolphins, turtles and a protected variety of skink lizard. As a result, environmental issues had to be carefully managed throughout construction. One example of this was the noise monitoring program that was put in place, where marine observers ensured that the piling activities didn't have an affect on the whales that come into the southern waters.
Impressively, John Holland successfully delivered the Cape Lambert Marine Works project four months ahead of schedule, and under budget. It's exceptional safety record and impressive environmental record are both testament to the high quality of work that he company is renowned for.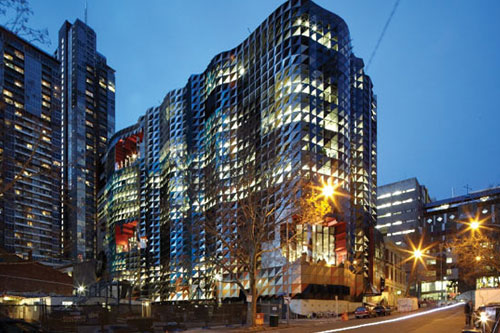 2013
Joint Winner: The New Royal Children's Hospital (Lend Lease)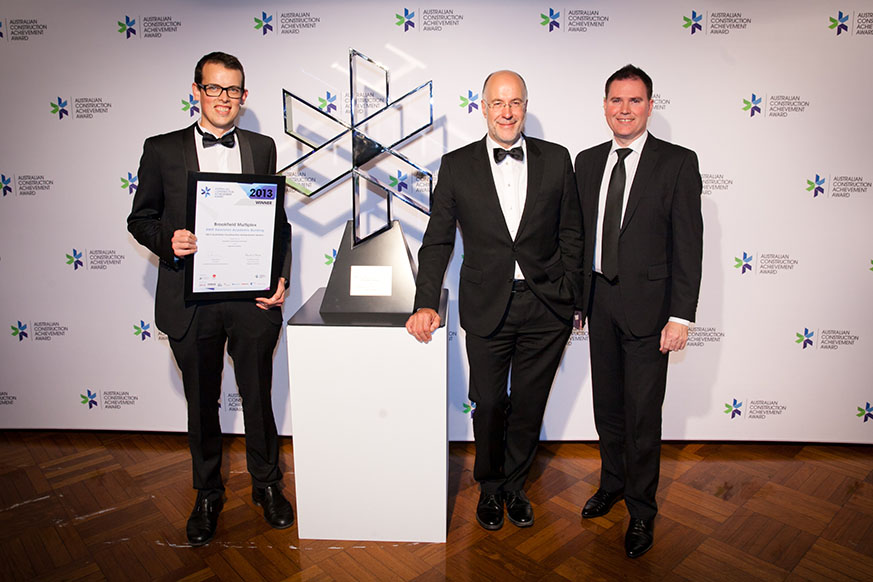 Brookfield Place has transformed a vacant lot and five dilapidated heritage buildings in the heart of Perth's CBD into an exciting civic space. The site the building is one of the most famous and historical sites in Perth having been the city's infamous "hole in the ground" for 20 years. Now standing in its place is a 45-storey tower with the tallest side core in the Southern Hemisphere and one of the largest commercial floor spaces in Australia. And at 234 meters, the stunning tower dominates the Perth skyline.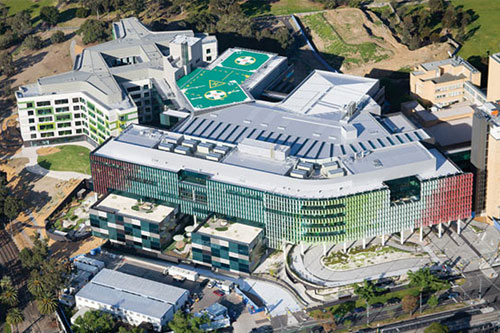 2013
Joint Winner: The New Royal Children's Hospital (Lend Lease)
The New Royal Children's Hospital project entered by Lend Lease is one of Australia's largest hospital redevelopments. The new hospital facility in Victoria offers 357 hospital beds and applies new innovative models of care for treating patients. The project has set new benchmarks for health care facilities in Australia.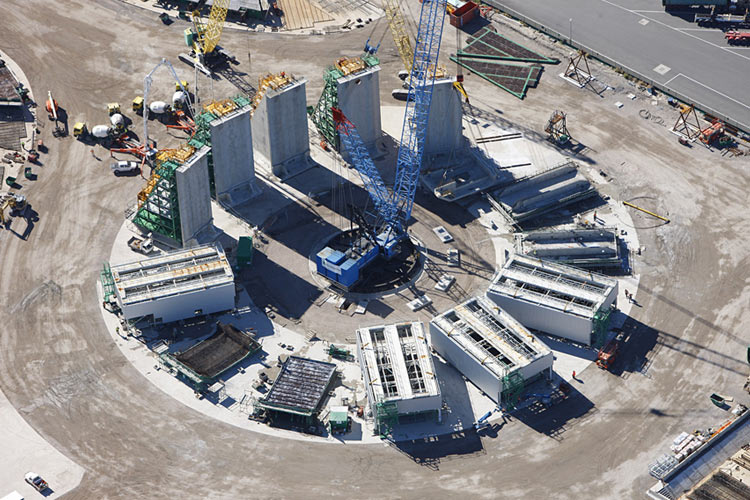 2012
Port Botany Expansion Project (Baulderstone)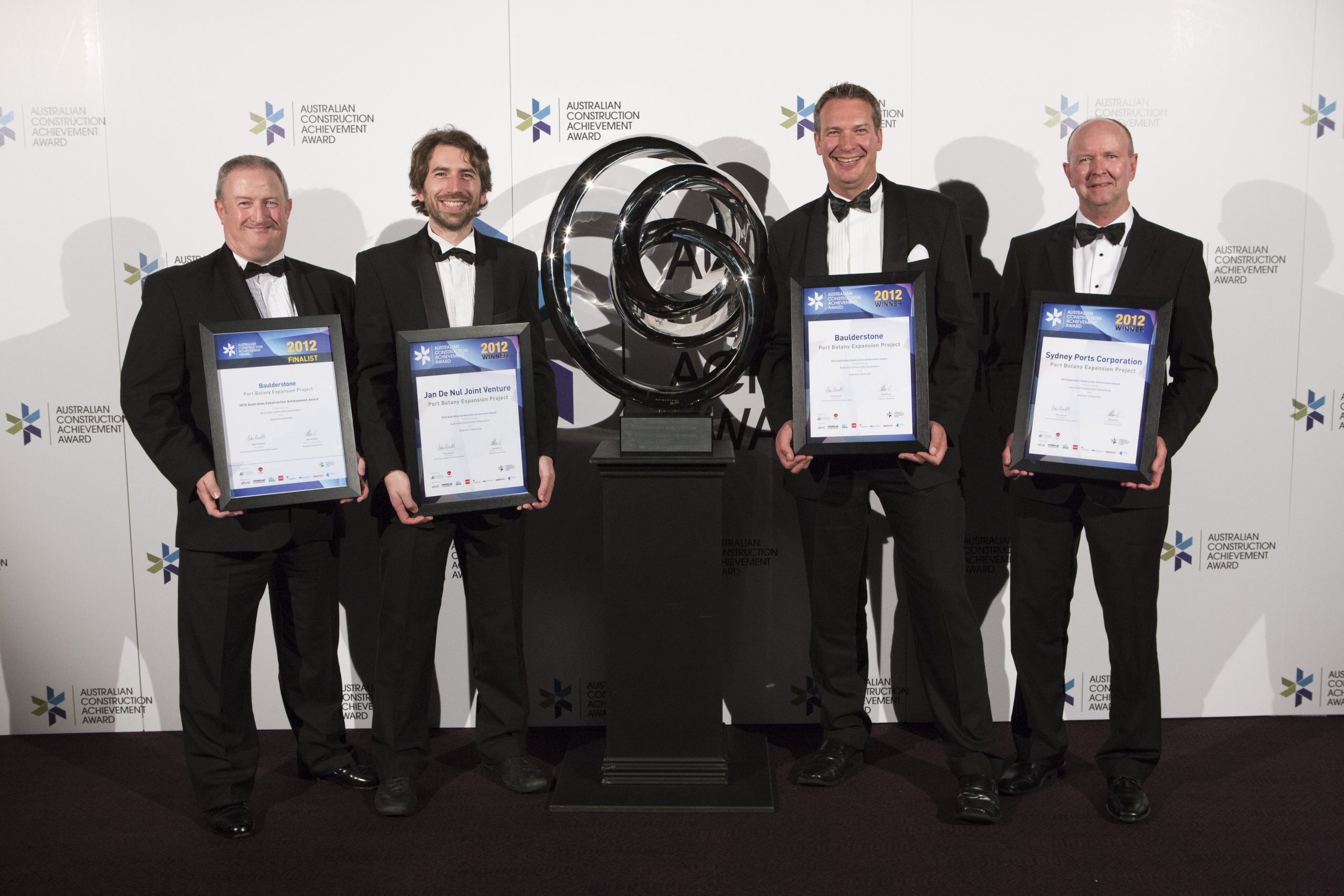 The $515 million expansion of facilities at Port Botany for the Sydney Ports Corporation involved construction of 1.85 kilometres of new deep water shipping wharves, and dredging of over 11 million cubic metres of material to create new shipping channels and provide fill for the land reclamation operation. The scale and nature of the works required the development of cutting edge solutions in reclamation compaction, seismic engineering and reinforced concrete marine structures. The outcome has set the benchmark for establishing new technical standards in design and construction for future infrastructure projects.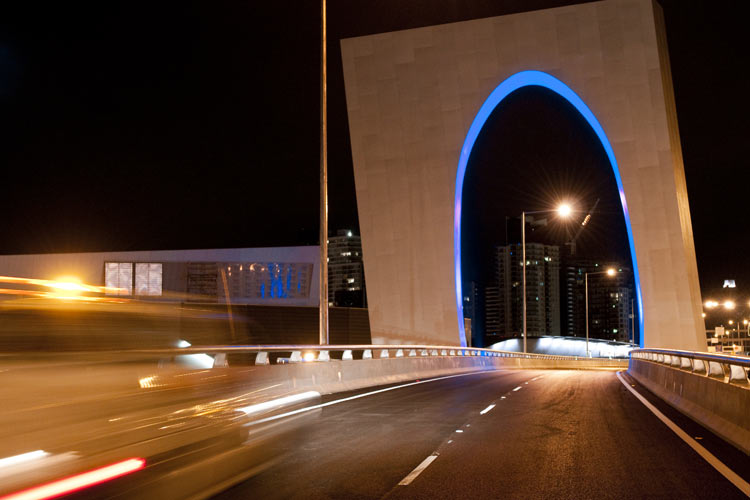 2011
West Gate Freeway Upgrade (West Gate Freeway Alliance)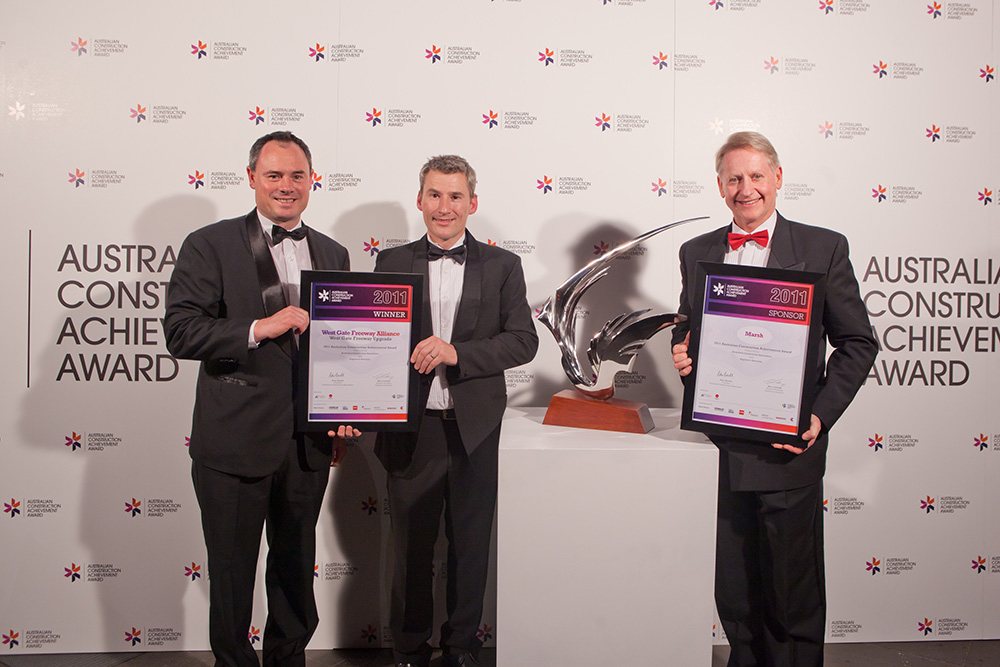 The upgrade of West Gate Freeway, on the southern fringe of the Melbourne CBD, included freeway widening, bridge works, the reconfiguration of access ramps and reconstruction of existing traffic lanes. This work was completed while still handling the very heavy traffic of hundreds of thousands of vehicles that needed access through the corridor each day. Despite extensive changes to the design concept that vastly improved functionality, the West Gate Freeway Upgrade was completed within budget and four months ahead of schedule.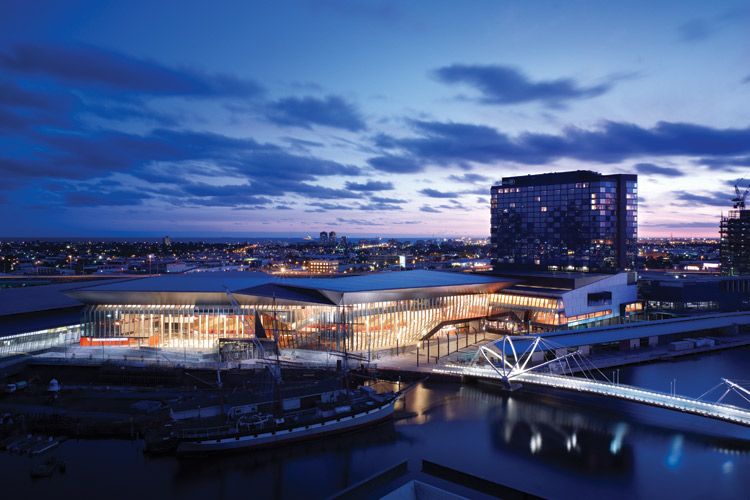 2010
Melbourne Convention Centre Project (Brookfield Multiplex Constructions)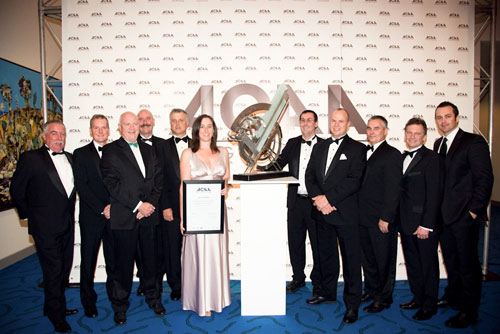 The $450 million Melbourne Convention Centre Project delivered the world's first and only 6 Star Green Rated rating convention centre. The rating was achieved by numerous techniques and innovations including its Black Water Treatment Plant that recycles wastewater, and passive initiatives such as a design that utilises the maximum amount of daylight.
The complexity of the construction included the challenges of its 70,000 square metre size, non-rectilinear forms, high architectural style, extreme volumes of the main foyer and plenary hall, the advanced AV technology, and the extent of food and beverage preparation areas and food service equipment. Also, a cut-off wall was created around the building zone to stop river and groundwater from invading the site.
The plenary hall features a 1,585-seat automated retractable seating system for rapid mode configuration change that is the largest and most complex installation of this type of system.
The project was completed 6 weeks ahead of schedule and within budget.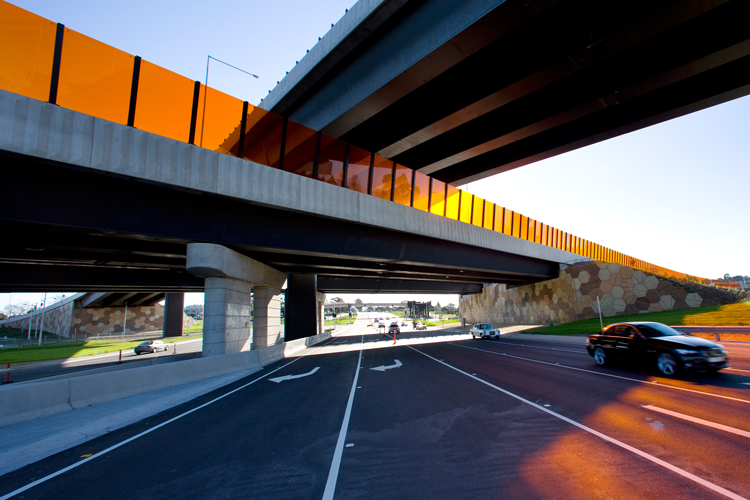 2009
EastLink Project, Melbourne (Thiess John Holland Joint Venture)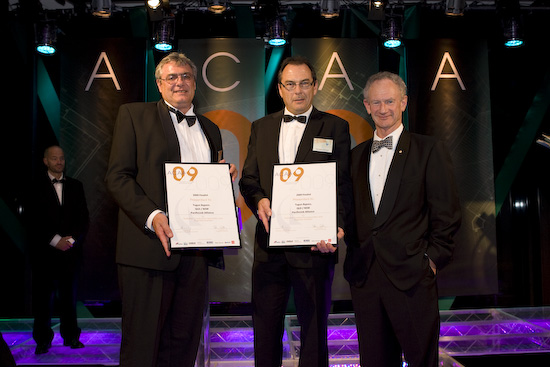 Melbourne's EastLink project, was delivered by Thiess and John Holland for ConnectEast through it's agency the Victorian Southern and Eastern Integrated Transport Authority.
EastLink is a $2.5 billion, 45 kilometre project that connects Melbourne's eastern and south-eastern suburbs between the existing Eastern, Monash and Peninsula Freeways. At the time of construction, it was Australia's largest road infrastructure project, and was completed five months ahead of schedule.
The project included more than 7 million cubic metres of excavation and earthworks, 1.3 million tonnes of asphalt, 2 million square metres of pavement, 88 bridges, 17 interchanges and twin 1.6 km tunnels, as well as the upgrading of four local railway stations and the protection of the environmentally significant Mullum Mullum Valley.
The Chair of the ACAA 09 judging panel, Professor Archie Johnston, said that the successful delivery of the EastLink mega project demonstrated that Australia's construction industry is amongst the best in the world, and stands willing and able to successfully complete many more major infrastructure projects and resource projects in the future, both in Australia and overseas.
The award was presented to Gordon Ralph, the Thiess and John Holland project director for EastLink, by Sir Rod Eddington and Professor Archie Johnston.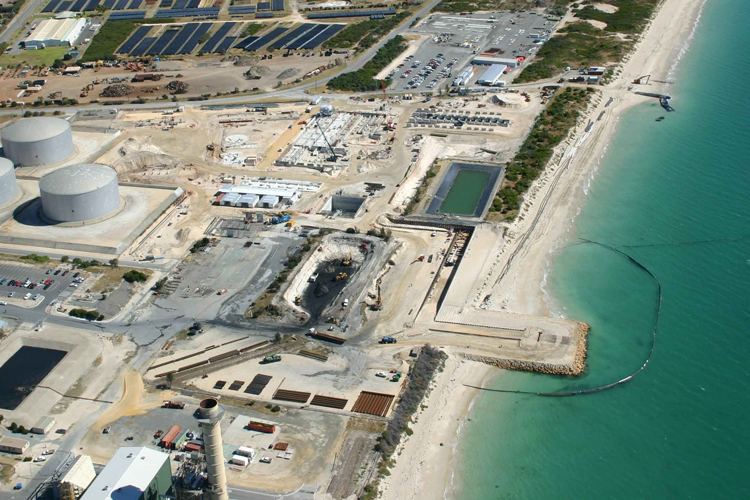 2008
Perth Seawater Desalination Project, Kwinana, WA (Brookfield Multiplex)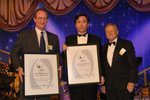 The $300 million plant for the Water Corporation of Western Australia is a key initiative of the Western Australian Government to provide approximately 17 percent of Perth's drinking water. The project was delivered by the proAlliance consisting of Multiplex Engineering, Degremont SA and the Water Corporation WA.
The project involved the design and construction of a 144 ML/day seawater reverse osmosis desalination plant, which is the third largest in the world, in an 18-month period. The unique design, procurement, construction and operation of the plant, including the use of renewable energy, energy recovery, the relatively small, ecological footprint and extensive ocean monitoring program, makes the project a truly sustainable, climate independent water source.
The plant was successfully built on a footprint of only 6.3 hectares and encompassed the installation of intake and outfall pipelines and an intake receiving structure within the protected waters of Cockburn Sound.
The processes developed for the project were far more complex than for any conventional water treatment plant, not only because of issues relative to the corrosive nature of seawater, but also in producing a pristine quality of seawater to feed the reverse osmosis system.
The key environmental challenges such as consultation, approvals and regulations, concentrate management and marine monitoring, energy and aesthetics, were all paramount during all stages of construction and will continue for throughout the life of the plant.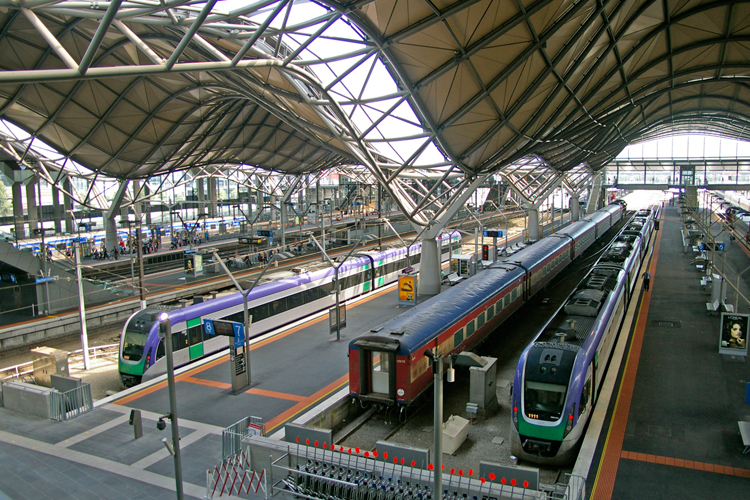 2007
Southern Cross Station – Melbourne (Leighton Contractors Pty Limited – contract value $420 million)
Construction of Melbourne's Southern Cross Station took place over, and around, a fully operational transport interchange, which every weekday serviced up to 60,000 commuters travelling on 940 suburban and inter-city trains, as well as connecting bus services.
The main feature of the new station is its spectacular wave-form roof, comprising a series of 'moguls' that reach up to 24 metres above platform level. The roof covers an area of 37,000 square metres, including 7,000 square metres of flexible skylights, and is enclosed on all sides by massive glass façades.
The roof utilises passive ventilation technology to extract exhaust fumes from the enclosed space, thereby reducing the station's power consumption and contribution to carbon emissions.
The project team developed special techniques to prefabricate the roof structure, transport it to site and erect it during night-time track occupations, without causing major disruption to station users. They also created innovative solutions to maintain the structural stability of the partly completed roof and safely install the ceiling and cladding systems.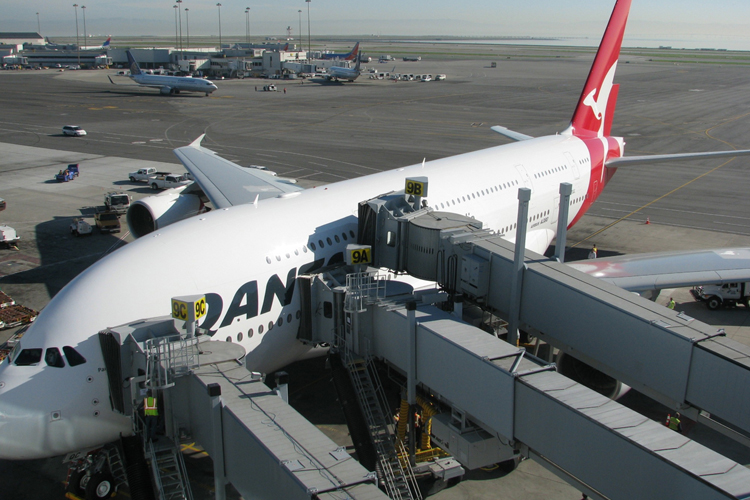 2006
Runway Widening Project Melbourne Airport, VIC (John Holland Pty Ltd)
To accommodate the new A-380 Airbus, Melbourne Airport's 3.7 kilometre main runway needed to be widened by 7.5 metres on each side. Loathe as it was to close the airport for any period of time, doing so provided the opportunity to replace distressed runway slabs and upgrade the entire runway lighting and guidance system.
After careful planning and testing, John Holland Pty Ltd was given 31 days to complete the job. They delivered in 29.
Needless to say, this required a highly co-ordinated team able to work in all weather conditions 24/7.
18,000 cubic metres of concrete was placed in a continuous 24 hour pour over 12 days. This rapid placement saw levels of innovation that are now being considered internationally.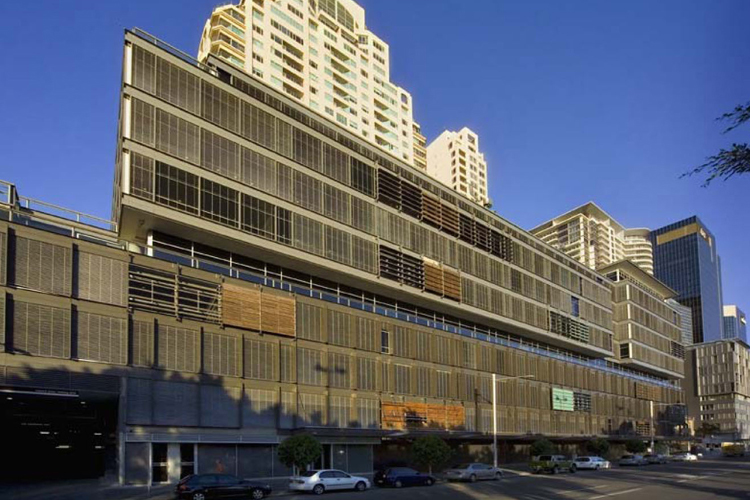 2005
The Bond – Sydney NSW (Bovis Lend Lease)
The Bond commercial building, at Millers Point in Sydney, was declared Australia's most outstanding example of construction excellence at the 2005 Australian Construction Achievement Award, presented at a gala dinner at Doltone House Pyrmont in Sydney, Friday 20 May.
In announcing the winner, the Chair of the judging panel, Dr John Nutt AM, said, "The Bond is a sophisticated city office building with many innovative features. We were impressed by the determined focus on energy efficiency and by the depth of research that underpinned each innovation – natural ventilation and lighting, an active façade, and state-of-the-art building services.
"These resulted in high environmental standards, superb internal spaces and sensitive heritage features – it was a brilliant commitment and extraordinarily well engineered."
The complexity and difficulty of the $107 million construction task also included remediation of the site and the suitability of the use of 'chilled beam' technology in the Australian climate to provide thermal comfort throughout the building, in place of traditional variable air volume systems.
An exposed rock wall forms a key part of the building envelope. The wall, hand hewn by convicts in the early 1800s, is the longest and oldest sandstone cutting in Sydney.
The award was accepted by Bob Johnston, CEO Bovis Lend Lease Asia Pacific, who said, "The Bond in Millers Point Sydney is arguably the most significant commercial office project constructed in the past decade. It has redefined expectations of what can be delivered in a work environment in this country.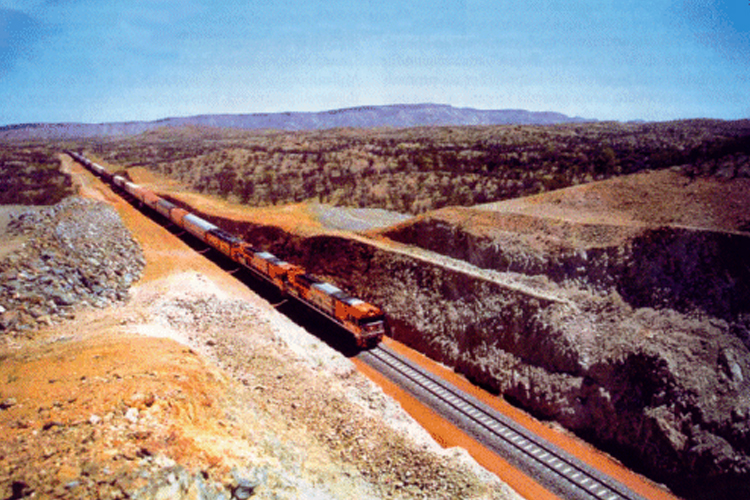 2004
Alice Springs to Darwin Rail Link (ADrail Joint Venture)
The Alice Springs to Darwin rail link has been awarded the highest accolade for construction achievement in Australia, the 2004 Australian Construction Achievement Award. General Peter Cosgrove AC MC, Chief of the Defence Force, presented the award at a gala dinner in Sydney tonight, attended by almost 400 guests from the construction industry.
The $1 billion project, by the ADrail Joint Venture, delivered the 1420km track that linked all of Australia's mainland cities by rail, and completed the longest single gauge railway in the world.
The ADrail Joint Venture project was driven by project manager KBR, leading rail experts and constructors John Holland and Barclay Mowlem, and remote earthworks specialist Macmahon.
The Chairman of Adrail, Dick Wright said, "It is gratifying that this award pays tribute to the efforts of more than 1300 people who delivered this nation-building project, especially the team of skilled and dedicated engineers and constructors.
"This fantastic team effort helped us to complete the railway five months ahead of schedule – an impressive feat given the formidable challenges of distance, climate and terrain.
"Australia's largest remote infrastructure project since the Snowy Mountains scheme was one of the most successful engineering and construction projects on a number of fronts.
"Brilliant engineering design, water-tight project management and outstanding construction performance have been critical to the success of what has accurately been described as one of Australia's greatest infrastructure achievements.
"It inspired many great innovations, set new benchmarks in occupational health and safety and indigenous participation, finally linked all mainland capital cities, and provided a new and successful trade route, both domestically and internationally.
"It has also had a significant impact in the Northern Territory, including a large proportion of the $1.1 billion construction cost spent in the Territory, a boost in employment – especially among indigenous Territorians – and plenty of anecdotal evidence that it's had a huge psychological impact," Dick Wright said.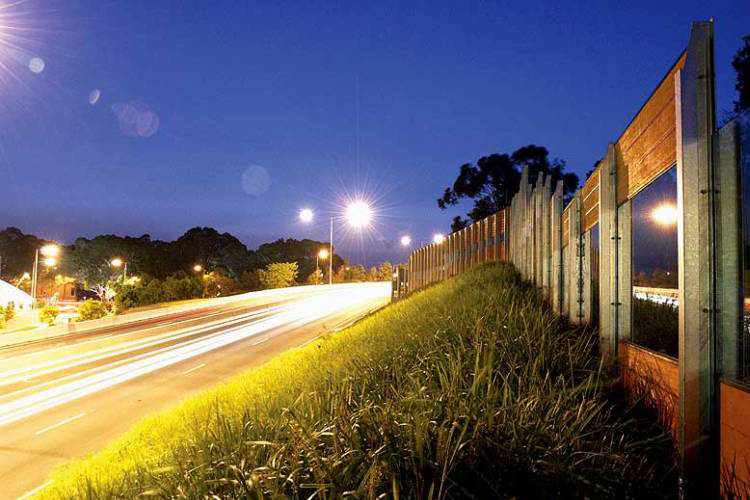 2003
Brisbane's Inner City Bypass Project (Leighton Contractors and Brisbane City Council)
The 2003 Australian Construction Achievement Award has been won by the Brisbane Inner City Bypass Project. The announcement was made by the Hon Craig Knowles MP, NSW Minister for Infrastructure and Planning and Minister for Natural Resources, at a gala dinner at the AJC Pavilion at Randwick in Sydney, on Friday 2 May 2003.
Brisbane's $220 million Inner City Bypass project is a 4.5kms transport corridor providing an east-west link around the city fringe from Paddington to Hamilton. The project comprises of 18 bridges, 4 tunnels, 2 major interchanges and 11 on and off ramps.
The completed facility has reduced travel time through and around the city by up to 15 minutes. This was achieved by avoiding 22 sets of traffic lights inbound and 17 sets outbound. Currently in excess of 50,000 vehicles and 5000 pedestrians and cyclists are using the facility each day.
In association with the Brisbane City Council, Leighton Contractors brought together a multi-disciplined project team that completed the project on budget and eight months ahead of schedule.
The Inner City Bypass had already been recognised for outstanding excellence in developing a safety culture for its 600 strong workforce that was second to none. Other areas like community relations and urban design had also achieved the highest accolades.
Brisbane City Council's Transport and Major Projects Chair, Councillor Maureen Hayes said that the Bypass was one of Council's great transport achievements. Councillor Hayes said, "The Bypass has exceeded our expectations. It is brilliant. Inner city traffic has been reduced by more than 25 per cent and motorists who use the Bypass are saving around 15 minutes on a cross-city trip. I whole-heartedly congratulate Leighton Contractors on receiving their Award because it is a truly outstanding project."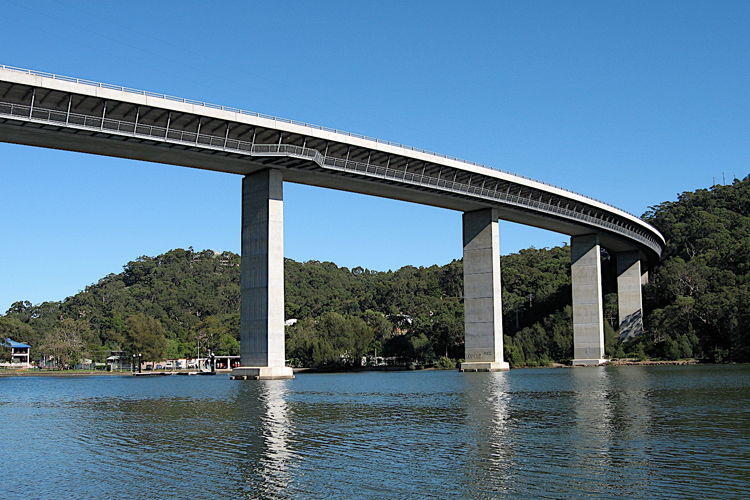 2002
Woronora Bridge (Barclay Mowlem Construction and RTA)
The Australian Construction Achievement Award for 2002 was presented during a gala dinner at the Sydney Town Hall. The prestigious award was won by Barclay Mowlem Construction Limited for the Woronora Bridge built for the NSW Roads and Traffic Authority.
Initiated by the Australian Constructors Association and the Institution of Engineers, Australia, this award is judged against broad-based criteria including:
Innovation
Technical complexity and Environmental sustainability
Planning and control of construction
Safety Management
Chairman of the Award judging panel, Professor Vernon Ireland, of the Australian Graduate School of Engineering Innovation was enthusiastic about this year's finalists. He said, "The finalists overcame significant obstacles in construction. Each company also applied innovative and creative engineering as well as considerable management expertise in achieving the time, cost and quality objectives of their clients. This year particular attention was paid to environmental sensitivity, safety and community relationships."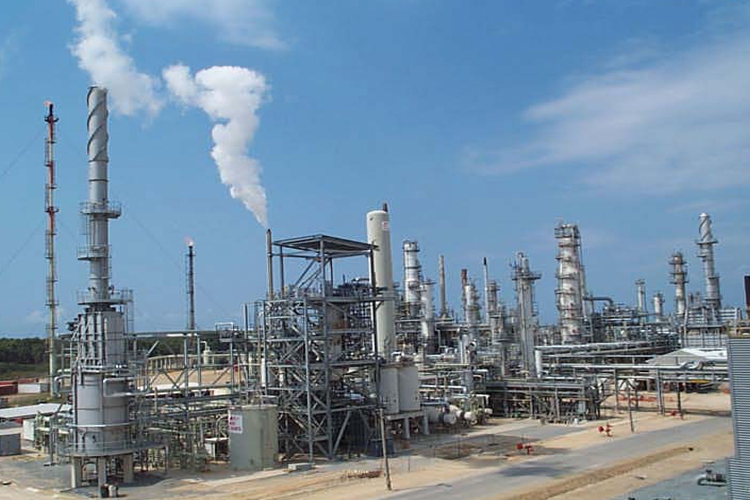 2001
Queensland Clean Fuel Projects (QCFP Alliance)
The Queensland Clean Fuels Project was delivered by an alliance of BP, BOC, Lend Lease Group, Origin Energy, ATCO Power, Fluor Daniel, JMW, Kvaerner and Stork.
Chosen ahead of six other finalists, the QCFP Alliance has achieved world-class construction and environmental performance largely through an innovative and forward looking partnership approach that brougt together key clients and contractors.
BP wanted a cost-competitive source of hydrogen, BOC, which sells hydrogen, to replace its existing, less efficient gas production unit in Brisbane. The QCFP Alliance established a co-generation electrical generation plant fuelled principally by natural gas and refinery waste gas. The plant's capacity allows sale of power to third parties during times of peak demand.
QCFP demonstrates the world's first hydrogen-treater that extracts high quality diesel, jet and petrol fuels from lower quality feedstocks. Integrated design meant that the diesel hydro cracker alone cost 3O% less than would have a stand alone build, BOC also benefits by collecting carbon dioxide, a chemical used food preparation.
The Queensland Clean Air Projects joins previous winners, Multiplex Construction (NSW) Pty Ltd for Stadium Australia, the Wandoo Alliance for the Wandoo B A offshore Platform and Baulderstone Hornibrook for the ANZAC Bridge.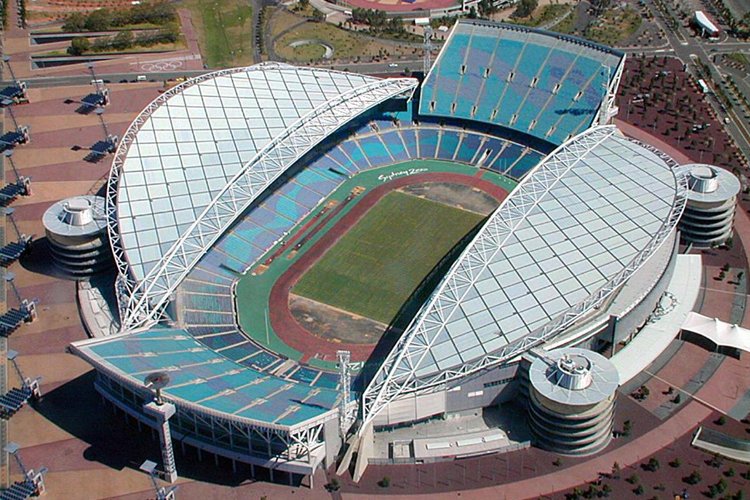 2000
Stadium Australia (Multiplex Constructions)
Multiplex Constructions, NSW was awarded this most outstanding construction achievement for Sydney 2OOO Olympic Centrepiece.
Chosen ahead of five other major construction and engineering projects Stadium Australia provides a combination of innovation in the concept to meet the clients' ambition, in overcoming the technical challenges and in setting new environmental standards. The effectiveness of the planning and control was evidenced by the project being completed three months ahead of schedule.
The judging panel singled out the Sydney Showground Exhibition Halls, another Olympic venue and principal attraction at this years Sydney Royal Easter Show along with Queensland's Cannington Port Development Project as being highly commended.
The Australian Construction Achievement Award reflects the development of a culture within the industry, which strives for worlds best practice and promotes the skills, productivity and prosperity that this industry brings to Australia.
Congratulation Multiplex Constructions, NSW for your outstanding contribution to the Australian Construction Industry.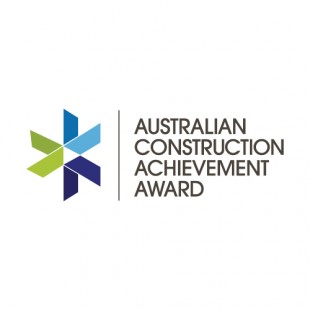 1999
No winner was awarded this year
No award was handed out this year.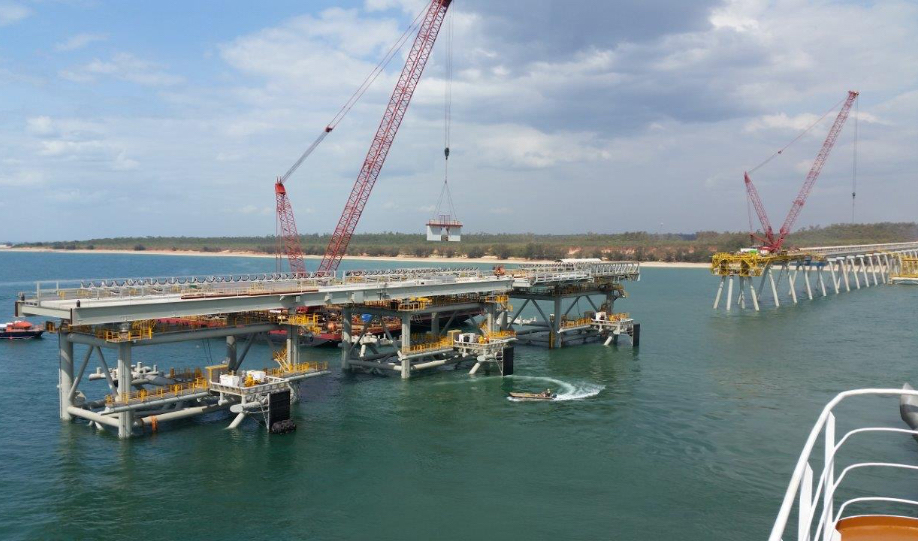 The 2020 Australian Construction Achievement Award Call for Entries are now closed.
2022 Submission Criteria
To receive any information about the Award presentation and future Call for Entries, please fill in the details below:
The 2021 Australian Construction Achievement Award Call for Entries will open in August 2020.
For more information, please contact Ella Dowie on [email protected] or 03 9321 1735.